There is always something new in the constantly changing and evolving Malate, but one that has stood the test of time is the Bistro Remedios. Their formula – great foods, cozy ambiance and good service.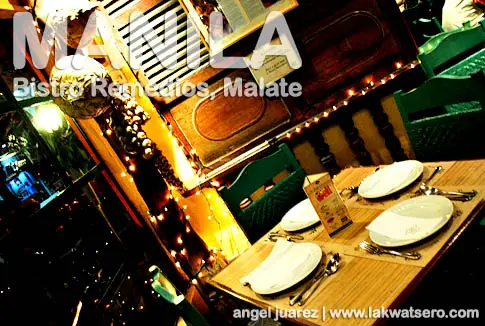 This quaint and interesting restaurant sits in the Remedios Circle along with the modern bars, restos and other establishments in this cosmopolitan and bohemian district of Manila.
Its well designed interior is contemporary Filipino. They use native items as decors including some antique stuff. The service is very Filipino too, very accommodating and hospitable.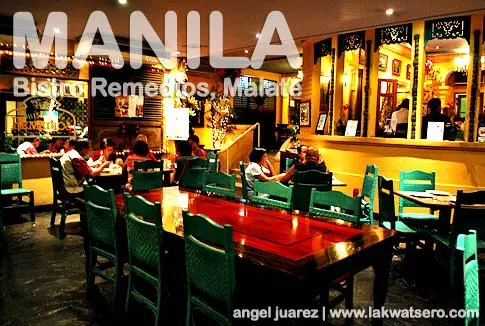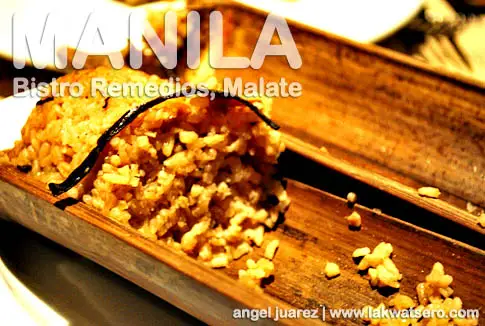 But the real test is on the foods, which they aced without surprise, because they serve some of the best and unique Filipino foods. One that I find interesting and extraordinarily excellent is the Bamboo Rice (P235), a richly flavored rice delicately steamed inside a bamboo for a couple of minutes. The result is a heavenly serving of rice that doesn't even need a side dish, for it can be enjoyed as it is. A must try!
Others that are worth trying are Sinigang na Baboy sa Bayabas (P295) and the Grilled Blue Marlin (P295). When it comes to drinks and other refreshment, I find their fruit shakes very ordinary, although one that should not be missed is their signature Chocolate Eh!, a rich and thick blend of hot cocoa served hot. Chocolate Eh! is one of their trademarks, and can also be enjoyed in their sister company Cafe Adriatico, and if you want milk on it, go for the equally delicious Chocolate Ah!