Mount Talamitam
Nasugbu, Batangas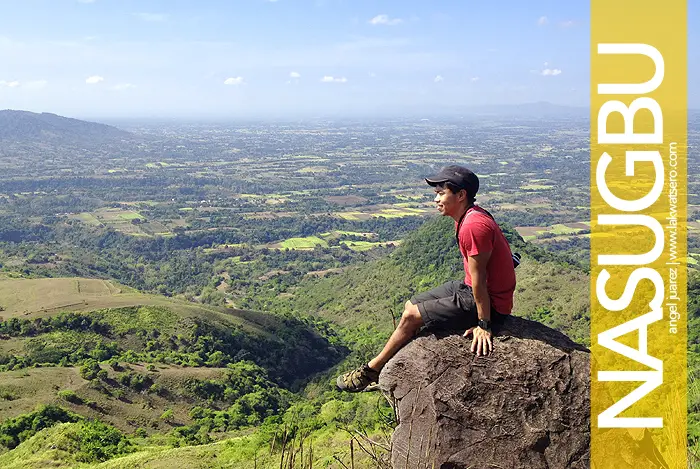 The vast grassy landscape near the summit, green during wet season and brown on hot summer days, is the icon of Mount Talamitam.
Standing at around 630 meters above sea level, Mount Talamitam is situated in Nasugbu, Batangas, just a striking distance from its more picturesque sister Mount Batulao. But unlike the other mountains in Nasugbu, Mount Talamitam is quite unique for it lacks trees or forest areas typical of a mountain. It is a "bald mountain", as others put it.
But Mount Talamitam's friendly trail makes it an ideal day climb. However, due to scarcity of shaded areas, the trek can be exhausting specially on dry season. The trek starts in Sitio Bayabasan, Kilometer 83, of Tagaytay-Nasugbu Highway, gradually ascending to a grassy plateau revealing the summit. The final ascent to the peak is a challenging 60-degree trail tucked on tall cogon grasses. At the summit, one can enjoy an unobstructed view of the provinces of Cavite, Batangas and Laguna as well as Mount Bungahan, its neighboring peak and the mountains of Batulao, Palay-Palay, Makiling and even those in Lubang Island and Quezon Province. The descent is usually on the same trail going up.
A day hike to Mount Talamitam can be easily organized from Manila under P700 budget. Registration is required at Barangay Aga for a minimum fee of P20 and although the trail is easy and readable, guide is required and readily available in the village for P300 per guide (maximum of five people). Other climbers combine it with a trek to Mount Batulao and even to Mount Palay-Palay or Pico de Loro.
How to Go There: From Manila, catch a Nasugbu bound bus from Buendia – Taft or from EDSA – Taft. Ask to be dropped at Sitio Bayabasan (Kilometer 83), fare ranges from P150 to P180 one-way and travel time is around two (2) hours. Registration site is at the Barangay Hall of Barangay Aga, just a short walk from the main highway.
Guides are readily available, rate is P300 per guide. Registration fee is P20 per person. It is best to leave Manila before 5AM to start the trek early as Mount Talamitam lacks shaded areas. On average pacing, the trek to the summit takes two (2) hours.