If there is one adventure that you should try at least once in your lifetime, it would be snorkeling. It's one of the easiest ways to get a glimpse of the underwater world, and not only that, but anyone can try it if they want to.
Going underwater may sound intimidating to some, especially when you get easily anxious. But unlike scuba diving, snorkeling requires minimal equipment and no training needed. With the right skill and the best action camera, you can capture the beauty while fully enjoying the experience.
Nonetheless, it's important to know and understand some tips before snorkeling. If you go snorkeling without any proper knowledge, such as what to expect, the condition of the sea, and how to use the equipment, you are more likely to have a chaotic beginner experience. In the end, you might even find the activity a bit dangerous and miserable. 
Hence, we have summed up some of the basic tips you need to know as a beginner for a memorable snorkeling experience.
Use the Equipment that Fits You
When you use gears that do not fit you, there is a high chance you will be uncomfortable underwater. For instance, if your snorkel mask does not fit your head properly, seawater will seep through the gap and keep on getting into your eyes which will cause redness and painfulness. 
One of the ways to check the mask is by placing it against your face without using the strap. Then, suck through the nose and let go of the mask. If it sticks to your face for a few seconds, that shows that the mask fits properly. Then, you can try to wear it with the strap to adjust it accordingly to make sure that it won't be too fit.
Besides that, the fins which are used to aid your movement underwater should fit like a pair of shoes without hurting your feet. If the fins are too loose, they may fall off underwater, and you will lose them. One way to check is by wearing the fins and shaking them around as you sit down. It should fit perfectly and does not cause any discomfort to your feet. Start by choosing the size of your daily shoes and adjust how you deem fit.
If you are unsure whether you are going snorkeling in the near future, you can choose to rent it at any available store. However, make sure that you check each part of the gear thoroughly before renting.
Learn Basic Snorkel Skills
While it is not as hard as diving, you still need to have the basic skill of snorkeling. In addition, breathing through the snorkel mask may feel weird and hard at first, so it is highly recommended to try it in the shallow part of the sea before going deeper.
In addition, you should also learn how to clear the water out of the snorkel valve. Once you are used to it, you won't get anxious in case your valve is flooded with water in the middle of the sea. The simplest way to force out the water is by blowing hard through the valve. Besides that, you should also know how to defog your mask for a better snorkeling experience.
Choose the Right Location
For beginners, it is important to conduct research about the best place to go snorkeling. Some factors to consider before deciding are the waves, the visibility of marine life, and whether the place is often crowded.
No matter what reviews others give you, don't attempt to snorkel if the place has strong waves. As you get bounced around, it will be hard for you to swim and enjoy the view, leading to depleted energy. Plus, it will impede your ability to stay calm during any issues. So, some would recommend starting to snorkel from the beach instead of jumping off the boat like what we often see. This allows you to choose how deep you are willing to go.
In addition, once you know the right location, you will be able to decide on the essentials that you should bring such as high protection sunscreen and any snacks. 
Some of the famous spots for snorkeling are: 
Great Barrier Reef, Australia
Famous for being the planet's largest reef system, the Great Barrier Reef is home to almost 2,900 reefs and corals that stretch over 1,400 miles across the Queensland shoreline. Moreover, there are thousands of fish species and 6 species of sea turtles that live in the system
Komodo National Park, IndonesiaThis park is located in the center of Indonesia's Lesser Sunda archipelago. The reefs have been protected for over 30 years and are thriving with a vast quantity of exotic undersea life, such as dugongs, manta rays, sharks, and over 1000 tropical fish. Don't forget to

bring along your phone

if you are visiting this park.

Baa Atoll, MaldivesLocated in the southwest of India, The Maldives is one of the most stunning islands in the world. This picture-perfect island is surrounded by eye-catching waters that are home to hundreds of colorful fish and marine animals such as sharks and manta rays.
Bay of Donsol, Philippines

The Philippines

has more than 7,000 islands, so choosing the best spot for snorkeling can be challenging. However, with diverse breathtaking wildlife, you can snorkel alongside the world's largest living fish, the whale shark. If you visit between November and June, you might have the chance to see up to 20 whale sharks on a single boat trip.
Do Not Harm Marine Life
The ocean ecosystem attracts people from all over the world, making it highly exposed to water pollution and reef destruction. Therefore, as visitors, it is our responsibility to ensure that we take care of the ecosystem while snorkeling.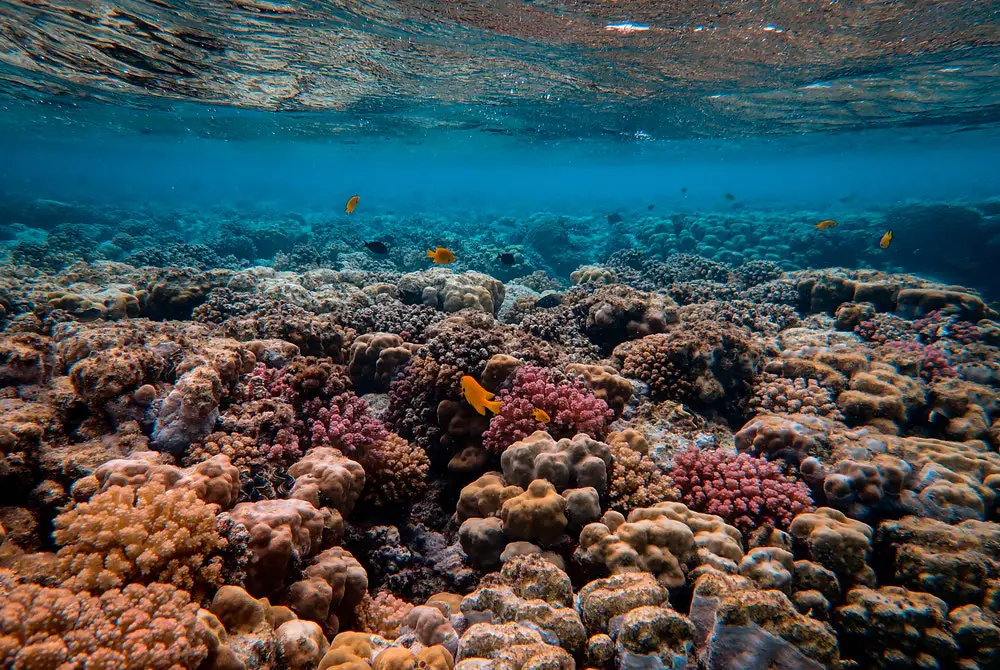 Source: pexels.com / @Francesco Ungaro
The most important thing to remember, yet often forgotten by many snorkelers, is to not touch the corals. They are sometimes mistaken for rock since they have a hard surface. However, in reality, they are fragile animals. Touching the coral with your fin can damage it, disrupting the ecosystem.  
In addition, don't harass the sea life while you are snorkeling. For instance, when you see fish, turtles, or sea animals, restrict yourself from touching or holding them. The action may seem simple and harmless, but it's damaging because they might be stressed and anxious with the interactions. So, remember to be a responsible visitor when you are going snorkeling!
*Featured image source: pexels.com / @John Cahil Rom