Moriones Festival, one of the most awaited and colorful festivals in the country, is all set this holy week in the province of Marinduque.
Moriones, from the word "morion" means mask, to which the festival is all about. During Moriones Festival, the streets of Marinduque are filled with men and women in mask and outfit depicting the Roman centurions during the time of Christ. The festival is a reenactment of the Passion of Christ with a highlight on the story of Longinus, a Roman centurion who speared the crucified body of Jesus.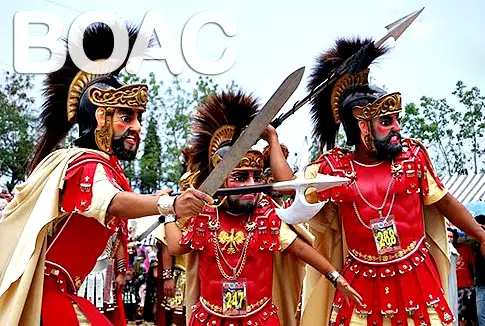 This year, Moriones Festival will once again relive this story and here's the schedule of activities in the provincial capital of Boac as released by the local government.
March 24, 2013 – Palm Sunday
05:00 am – Holy Mass
06:30 am – Holy Mass
07:00 am – Blessing of Palms – Hosanahan & Procession (a celebration of Christ's Entry to Jerusalem)
08:00 am – Holy Mass
03:00 pm – Holy Mass
04:00 pm – General Station of the Cross
March 25, 2013 – Holy Monday
05:30 am – Holy Mass
07:00 am – Participation in the Grand Parade
08:00 am – Pilgrimage – Registration of all Morions
10:00 am – Opening of Legions Photo Exhibit
10:00 am – Opening of the Marinduque Moriones Festival Trade Expo
03:00 pm – Moriones Parade Around the town
06:30 pm – Morions Torch Parade (MISTAH)
07:00 pm – Mass & Installation of New MISTAH Members
March 26, 2013 – Holy Tuesday
04:00 am – Pagbasa ng Pasyon sa mga Barangay ng Boac
05:30 am – Holy Mass
07:00 am – Pagbasa ng Pasyon
08:00 am – Registration of Morions – Visita Iglesia to 7 Parachial Churches in the Province
09:00 am – Morion Parade
04:00 pm – Morion Parade
March 27, 2013 – Holy Wednesday
05:30 am – Holy Mass
08:00 am – Participation in the Grand Parade / Community Parade of Costumes
10:00 am – Maskara Mo, Kulayan Mo
03:00 pm – Sacrament of Confession – Morion Parade
04:00 pm – Holy Mass
05:00 pm – Religious Procession
07:00 pm – Senakulo
March 28, 2013 – Maundy Thursday
05:00 am – Holy Mass
08:00 am – Chrism Mass / Morion Parade / Battle of the Morions
10:00 am – Maskara Mo, Kulayan Mo
03:00 pm – Morion Parade
05:00 pm – Celebration of the Last Supper & Washing of Apostles Feet
06:00 pm – Start of Vigil at the Blessed Sacrament
07:00 pm – Senakulo (The Last Supper)
March 29, 2013 – Good Friday
09:00 am – Via Crucis (Way of the Cross Re-Enacted along the street of Boac)
10:00 am – Maskara Mo, Kulayan Mo
01:00 pm – The Seven last Words
03:00 pm – Celebration of the Passion of Christ
04:00 pm – Veneration of the Holy Cross
05:00 pm – Religious Procession
March 30, 2013 – Black Saturday
08:00 am – Survival Kabugsakan
09:00 am – Morion Parade
10:00 am – Maskara Mo, Kulayan Mo
03:00 pm – Morion Parade (All Morion Groups)
07:00 pm – Senakulo (The Beheading of Longinus)
08:00 pm – Torch Parade
09:00 pm – Celebration of the Resurrection of Christ – Blessing of Fire and Bonfire
March 31, 2013 – Easter Sunday
04:00 am – Salubong (Ritual and dance celebrating the appearance of the Risen Christ before the Blessed Mother)
05:00 am – Holy Mass
06:30 am – Holy Mass
08:00 am – Holy Mass
09:00 am – Chase of Longinus (Day Version) and Morion Parade
10:00 am – Pugutan sa Araw ng Linggo ng Muling Pagkabuhay
*Photo by: www.marinduque.gov.ph