Krabi, the place popularized by Leonardo DiCaprio's Holywood movie "The Beach", is one of Thailand's tourists hotspots. With its powdery white sand beaches, limestone island cliffs, turquoise water and vivid underwater life, no doubt that it is indeed one of the best places in the world to best experience the sun, sea and sand of a tropical paradise!
Well, I had an opportunity to visit Krabi late last year during my trip to Phuket and since they take pride of their dive sites, I decided to give it a try.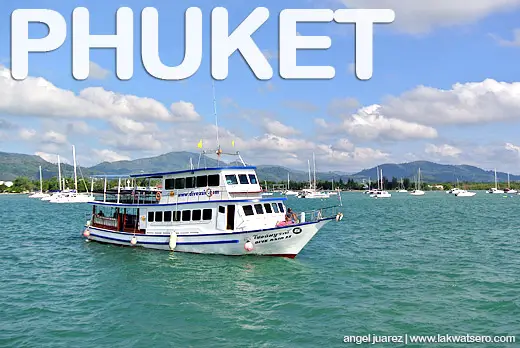 For someone based in Phuket (like me) and wishes to dive in Krabi, scuba diving is quite expensive. Simply because Krabi is at least an hour boat ride from Phuket, so the transportation will definitely bloat up the cost. But hey, I was already in Phuket and I am not sure if I will be able to go back there anytime soon, I might as well do the dive thing. So I ended up searching the net for dive packages from Phuket and settled with Water World Asia for a three-dive day trip in King Cruiser, Shark Point and Koh Dak Mai amounting to 3,400THB for the dive trip, totaling to 4,200THB including the equipment rentals. It's the cheapest that I found for the same package.
The entire dive reservation, booking and payment system was amazingly smooth, all done through the internet. If you check Water World Asia website, they have different fixed schedule dive packages on various dive sites in Phuket and Krabi. Each dive package is operated by different dive shops, so they merely act as frontliner agent that processes reservation and accepts payment and not as dive operator. If they do operate dives, I am not sure. Anyway, I think it is simple and organized way to dive in a foreign land. Payment can be by cash in their office or online by credit card. Since I didn't have enough time to drop by their office and payment is required to confirm my booking, I trusted my credit card details to them just to close the transaction.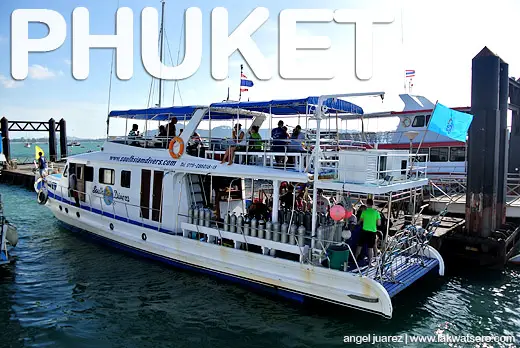 The day of the dive, a van fetched me at my hotel before eight in the morning. It went around the city to fetched the other divers and then headed to the port where huge dive boats are docked. I counted at least four dive boats, each having more than 25 divers. I boarded the one headed to King Cruiser, Shark Point and Koh Dak Mai, it was a two-decker boat filled with busy people – staff doing their works and divers fixing their stuff.
I was welcomed by my guide, an experienced Thai dive master in his early 30s. He asked me to check my gear and equipments and briefed me about the boat – unlimited coffee, tea, softdrinks, water, fruits and whatever snacks or foods on their table. Wow! That explained the 4,200THB rate. It reminded me of my dive cruise in Tubbataha – the eat, dive and sleep experience!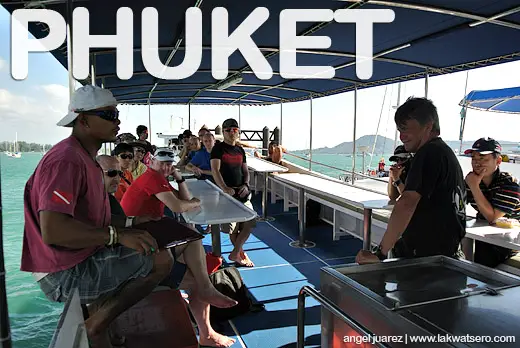 When everything was ready, our boat started its voyage towards Krabi. It sailed for an hour under the blue and sunny sky of Indian Ocean, the sea was generally calm.
I was group with two other divers – a Russian and a German, both in their 40's. I felt so young and inexperienced but I already have more than 130 dives under my sleeve so it made me a bit confident of my diving skills. Our dive guide made the briefing shortly after the boat left the port and advised us to gear up ahead of the other groups so we would be the first to descend.
Koh Dac Mai
Our boat stopped for our first dive in a site called Koh Dac Mai, considered as one of the best wall dives in the area. Waterworld Asia describes the site as a huge limestone rock that rises steeply out of the sea. This site is noted for variety of reef fishes, resident Moray Eels and yellow tube corals among others.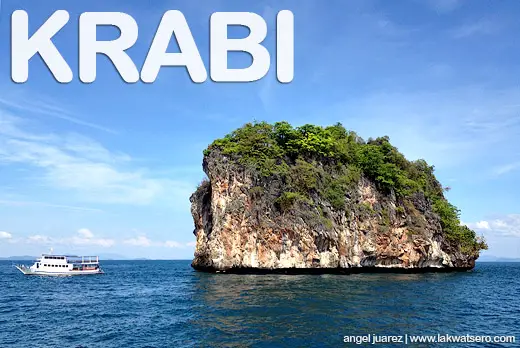 What did we see during our dive? Nudibranches, Bamboo Shark, different species of shrimps, rare yellow Sea Horse, giant Pufferfish and the usual reef fishes, corals, crinoids and other species. We spent a total of 36 minutes underwater, maximum depth at 19.9 meters. It was a short dive because the Russian diver (in Nitrox tank!) was almost running out of air. Sad to say, I had no picture during this dive since my camera phone failed underwater. 🙁
The boat then maneuvered southwest to our next dive destination and sailed for almost an hour while the divers were on surface interval. There were overflowing foods and drinks for divers on surface interval – burgers, pastries, cookies, fruits, coffee and soft drinks! We were quite pampered!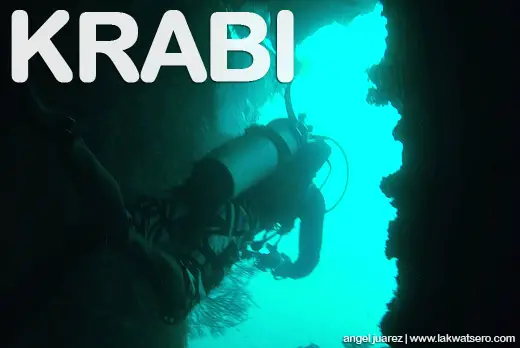 King Cruiser Wreck
Our guide briefed us again for our second dive at King Cruiser Wreck, an old Japanese passenger shipwreck that met its sad fate in May 1997. The wreck has large openings making it an easy wreck dive. Its propeller, lying at around 30 feet, is its deepest point. We were advised by our guide to look out for the most famous underwater toilet in Thailand! Hahaha!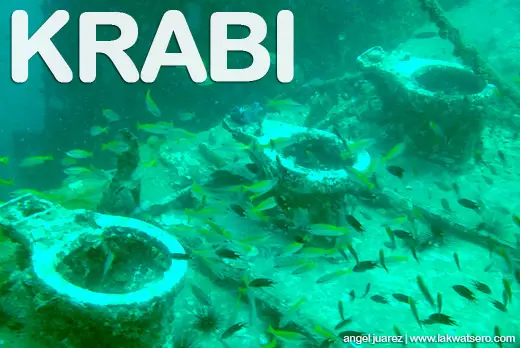 Our descent in the Kring Cruiser Wreck reminded me of the beautiful shipwrecks in Coron although this one pales in comparison. We saw a lot of macro species, Scorpion Fish, school of yellow reef fish and yes the famous toilet of Thailand! We went inside the multiple decks and other open areas of the wreck, corals already carpeted most areas of the wreckage and various reef fishes seek refuge on it. But then our dive was cut short again. This time, the Russian diver was running out of air. We only spent 30 minutes underwater at maximum depth of 23.6 meters. I still have 80 bars of air in my tank.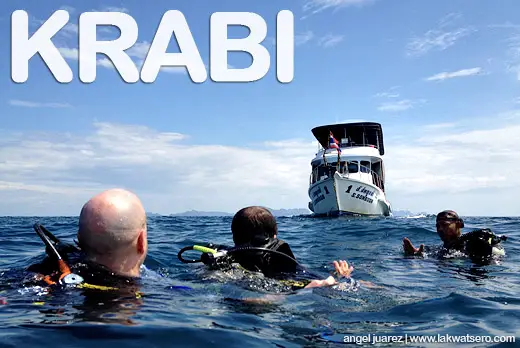 Lunch was served when we surfaced and the divers feasted on different Thai dishes, fruits and drinks. Meanwhile, the boat moved a bit to the nearby Shark Point for our last dive.
Shark Point
Shark Point is one of the popular day trip dive sites to visit from Phuket for its opulent marine life. The site guarantees sightings of Barracudas, Snappers, Fusiliers and the occasional Leopard Shark. Our group was the first to descend again. Underwater, we saw different types of Eels, a school of Squids, a huge Cuttle Fish, Barracudas, and other smaller reef fishes, corals and other species. But there was no Shark! No Shark at Shark Point! But I was amazed with the Cuttle Fish because it was the first time I saw one underwater! We had a longer bottom time for this dive, thankfully! Hahaha! Forty six minutes at maximum depth of 18 meters.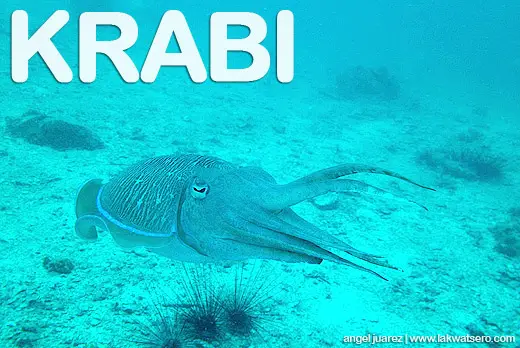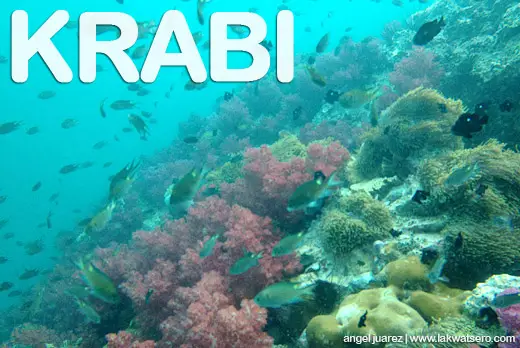 And just like that, our day trip of diving in Krabi was finally over. We only had three out of so many dive sites in Phuket and Krabi. I must say that diving in Thailand is like diving in the Philippines – the species, the scenery and the water temperature are almost if not the same. The visibility though is not that good, perhaps it goes with the season. But cost wise, diving in the Philippines is much cheaper! Hmmm, okay, the cost is probably justified by the facilities on the dive boat but still… err, never mind! 🙂
Diving in Thailand now off my bucket list! What's next? How about Maldives?