Going to Tawi-Tawi is not as easy as 1-2-3 for two main reasons. First is, of course, its not so good image in the tourism landscape. Secondly, obviously because of its distance and isolation.
The second one is given and we can't do anything about it. Being the southernmost province of the Philippines, it is in fact closer to Malaysia than the nearest city of Zamboanga in mainland Mindanao.
But its distance and isolation can be a blessing if one looks on the positive side of tourism which could mean smaller crowd, refreshing scenery, and unspoiled and unexploited resources. And I was looking at Tawi-Tawi that way.
Tawi-Tawi is the southernmost province of the Philippines and one of the provinces of the Autonomous Region in Muslim Mindanao. It shares sea border with Malaysia which is just 20 kilometers away. It is a cluster of 107 islands and islets scattered over the seas of Sulu and Celebes. So with bodies of water all around it, it is without a doubt that it harbors some amazing dive spots, off beat underwater sites that are out of the usual dive maps!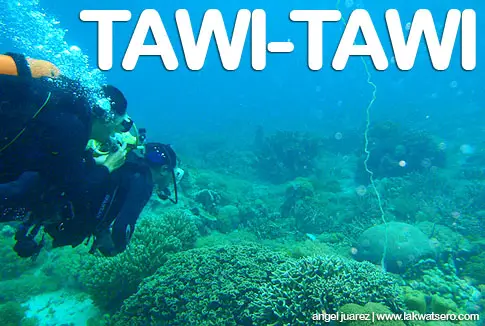 Curiosity brought Ate Claudia and me to Tawi-Tawi and we were both amazed of what we witnessed! We had three dives with Tawi-Tawi Divers Club and at the end of the day, we were one is saying that Tawi-Tawi is a very promising dive destination!
Sanga-Sanga Reef
We went to the bridge that connects Sanga-Sanga and Bongao Islands and waited for the boat that Sir Ramon, our dive master, chartered. When the boat arrived, we quickly boarded and headed to our first dive in Sanga-Sanga Reef. Located in front of the airport, the site is a restricted area and scuba diving there requires permission from the airport security. So our boat docked near the airport and despite the choppy surface, Sir Ramon got off the boat and waded to the shore to ask permission. He returned after a while with a go signal for us to dive.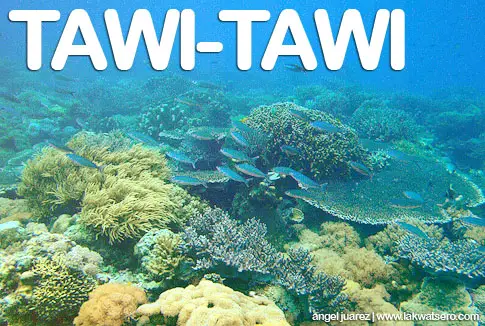 The current was quite strong when we descended to a reef adorned with soft and hard corals and home to the usual tropical marine species. The restriction on the area and its proximity to a secured location somehow brought good effects as the site is teeming with colorful marine life – colorful corals seem to carpet the large sea bed while small fishes freely dwell on it. There were no pelagics but the area was densely populated by smaller species. It was a total of 46 minutes bottom time at maximum depth of 19.1 meters.
We had our lunch during surface interval where we met Sir Dong, the President of TDC, and other local divers who would be joining us for our second dive at Pahut Wreck. Sir Ramon decided to pass.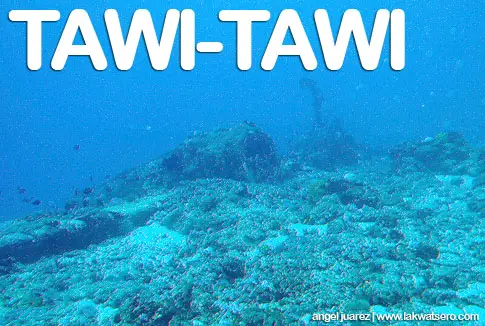 Pahut Wreck
Believed to be a World War II Japanese war plane, the wreck in Pahut is the main attraction of the site. But what made the dive more challenging is the extremely strong underwater current since we descended in time for the shifting of the tide. As soon as we were down, all of us went busy fighting the current to get into the wreckage, and clinging into whatever solid stuff beneath to hold our position.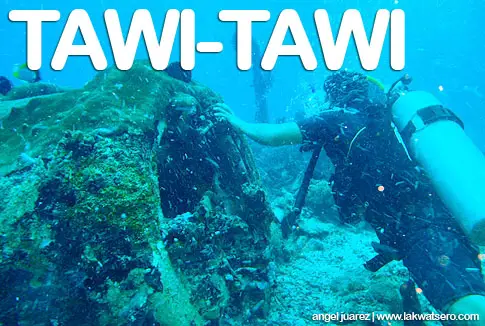 Despite our struggle, we were able to see the plane wreck closely. I held my position on the plane's right wing holding to a solid metal part of the wreck while checking it out. Some parts are already gone, either they were harvested by the locals or torned down by the current, making the whole outline of the airplane barely noticeable. Corals already covered some parts of the wreck with small fishes seeking refuge on their artificial home. There is no proper documentation and available resources on the identity of the plane but it does look like an old single-seat war plane known to us as tora-tora.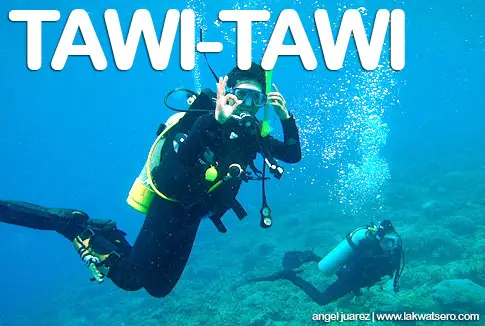 After spending few minutes in the wreck site, we drifted southwards, passing colorful corals, crinoids, sponges and other marine species. Then we gradually ascended after our adventurous 31 minutes underwater. Despite the sea condition, the dive in Pahut Plane Wreck was the highlight of the day!
Our boat traversed the river and docked at Mindanao State University port for our surface interval. We had an unobstructed view of Bud Bongao from there. The TDC guys prepared our stuff for our third and last dive of the day at Suwangkagang Wall. Sir Ramon would be joining us again for the dive.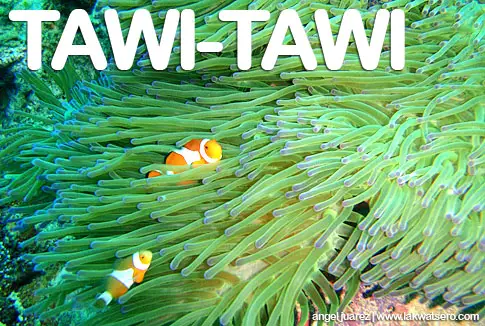 Suwangkagang Wall
When we were cleared for another descent, the boat maneuvered toward a site they call Suwangkagang Wall located just near our lodge.
Suwangkagang Wall is not actually a wall but a sloping seabed adorned mostly with soft corals. There are patches of hard corals, sponges and crinoids too but soft corals are abundant. Sir Dong told us of giant clams in the site but we didn't see it. We saw some eels, nudis, schools of reef fishes and other usual marine residents, still no pelagics. After thirty seven minutes underwater at maximum of 12 meters, our dive day in Tawi-Tawi was finally over.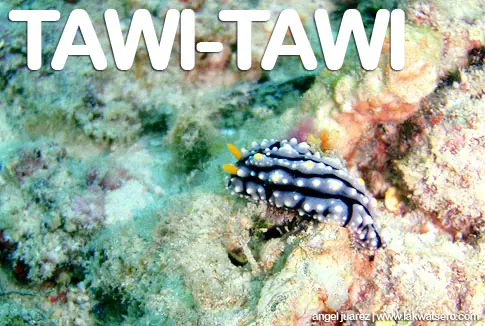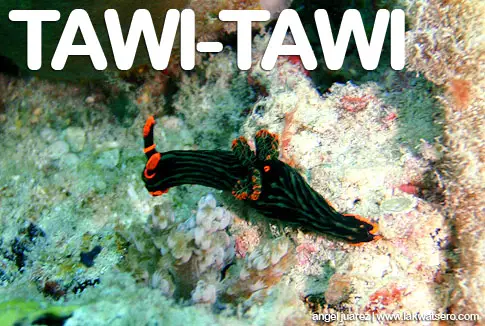 Our dives in Tawi-Tawi may not be the best dives that Ate Claudia and I had but they were equally memorable as the others. There's something in Tawi-Tawi that caught us, perhaps being an off-beat tourist destination, or the distance, or the image of the place, or the kind people we met there, or whatever it is. At the end of the day, we talked about the dives, the sites, the experience and we both agreed to come back someday. But for now we are very grateful to Tawi-Tawi Divers Club for assisting us and also to Word Wide Fund Philippines Tawi-Tawi for their hospitality. I am sure our roads will cross again someday soon!