There are places worth coming back even if it means long strenuous travel and quite hefty budget, El Nido is one of those.
Three years have passed since Ate Claudia and I visited the place but it seemed to be a long time. The call to return was growing stronger and stronger as days passed by that our wandering souls and scuba heart couldn't bear the calling. So we found ourselves going back to her on one rainy weekend of June.
Like our other trips, this one was another dive trip. But of course every dive trip comes with a side trip and since it was El Nido, we planned to hit other beaches too 🙂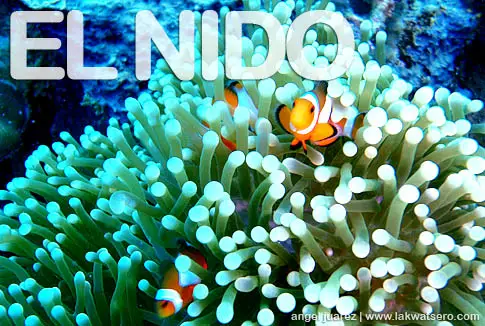 We booked three dives with Palawan Divers, the same shop we dived with in 2010. Unfortunately, the weather didn't allow us to descend on our scheduled day of diving – gloomy sky, scattered torrential rains, huge waves – perfect bed weather! We were already in the dive shop when they said that the dives were canceled. Sad but the circumstances were inevitable and out of our control.
Since we were already in the town, we decided to make the most of our day with whatever we could do there – we ended up food tripping! Yay! 🙂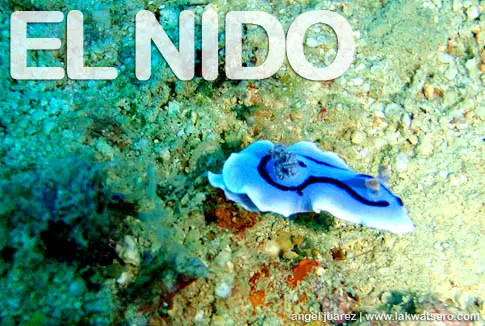 The next day, the sea was much calmer, the sky was clearer and the weather was much better. There was a light shower in the morning but there were also patches of blue sky and cotton clouds, a promise of a good day, a great day to dive!
Along with other divers, the staff of the dive shop and the boat crew, we left the beach at half past the hour of eight in the morning and sailed towards Cadlao Island for our first dive.
Natnat Beach
Dive Master Doy was with us as we descended in a site they call Natnat, obviously because it is near Natnat Beach. It has a sandy slope decorated by colorful corals and crinoids and home to variety of reef fishes. At first, the visibility was not so good but it improved towards the end of the dive when the sun showed up.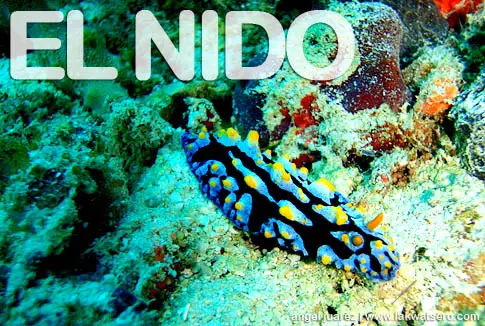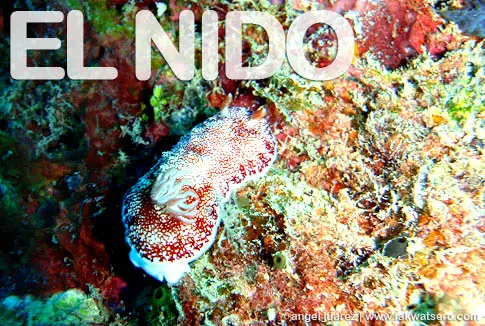 There were triggers, trumpets, striped eel, rabbits, sergeants, oversize batfish, cute anemone fish and other tropical fishes but what amazed me was the various macro species we spotted – six different variants of sea slugs and some shrimps! Wow! These colorful sea slugs never seize to amaze me!
After 55 minutes and with 80 bars of air left on my tank, we ascended on a sunny surface of Natnat.
West Entalula
We then cruised towards the nearby Entalula Island for our surface interval and next dive. When we were cleared to descend again, we went down on the western side of the island over an area covered with soft and hard corals. A ribbon tail stingray graced us on the first few minutes of the dive but it quickly hid in the corals and rocks before I even click my camera.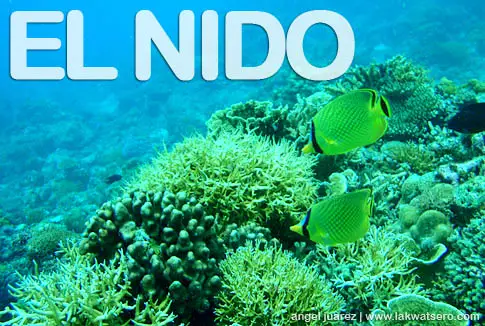 We drifted southwards oblivious of the mild current, visibility was better. We spotted more nudibranch, peacock mantis shrimp, triggerfish, trumpet fish and a sea turtle swimming on the surface. Towards the end of the dive, the current became strong so we drifted back to our boat and against the current. We were struggling but we were entertained by lionfish, anemone fish, macro shrimps, boxfish and a playful remora.
When we surfaced after 50 minutes of bottom time, I had 70 bars of air left.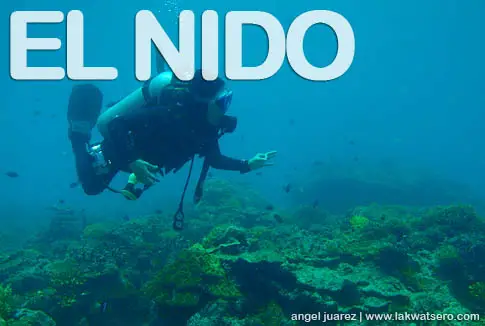 When all divers were back on board, the boat docked in Entalula Beach for our lunch and surface interval. I was thankful that the sun was already on its glorious presence with the blue sky everywhere when just the other day it was gloomy and wet. The difference a day makes! It felt like summer again! Amazing!
Twin Rocks
En route to our third and last dive at Pinaglugaban Rock, the water turned choppy so the operators decided that we descend to Twin Rocks on the northern side of Miniloc Island.The water was calmer when got there.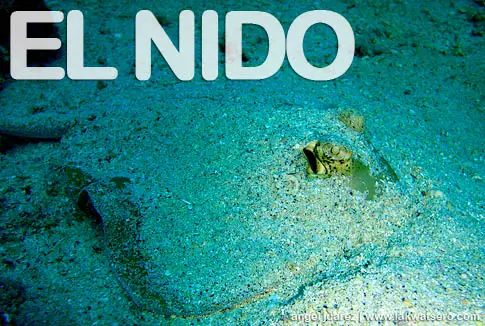 Fully recharged after a hearty meal, we quickly rolled back to the water and descended to a reef slope decorated with corals, sponges and crinoids. Then we were treated to a magical display of vivid underwater finds – blue dotted stingray, peacock mantis shrimp, trumpetfish, alligator flathead, school of yellowtail barracuda, pipepish, triggerfish, nudis, scad fish, huge groupers, damsels,  rabbitfish, lionfish and more tropical species! Wow! What a great way to end our day of diving in El Nido! We surfaced after 52  minutes, I still had 80 bars of air in my tank.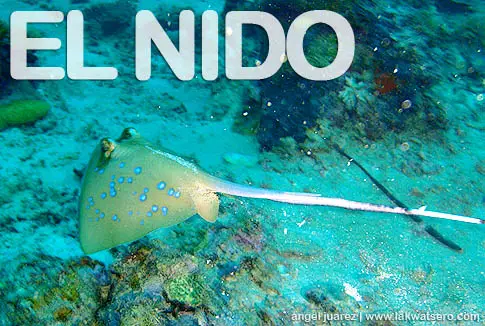 There are more than 20 dive sites in El Nido and a day of diving is definitely not enough to see all of its underwater treasures. But for us with pretty dried gills, it was enough to satisfy our incessant longing to breath beneath its surface. After five years, El Nido satisfied our scuba hearts again with its own charm and surprises. When will I dive you again? I hope not after another five years 🙂
Dive Shops in El Nido
There are now a lot dive shops in El Nido comparedto when we first dived there five years ago but the rate is still almost the same. The three-dive package of Palawan Divers costs P3,600 per person inclusive of gear and equipments, lunch, DM, boat and marine conservation fee.
Here are some of the dive shops in El Nido: