Tanay, Rizal is just a stone throw away from the Metropolis and yet it seems to be always overlooked by tourists. Unbeknownst to many, the town boasts of numerous attractions that will surely delight outdoor junkies, most specially nature lovers and adventurous ones.
For a place that is only an hour away from Metro Manila, particularly from Mandaluyong, Pasig, Quezon City or Marikina, Tanay offers a new and different dimension away from the hustle and bustle of the city. Situated at the southern tip of Sierra Madre Mountain Range, the town is dotted with numerous waterfalls, caves, river system and picturesque mountains, making it a favorite go-to place of those residing in the Metro.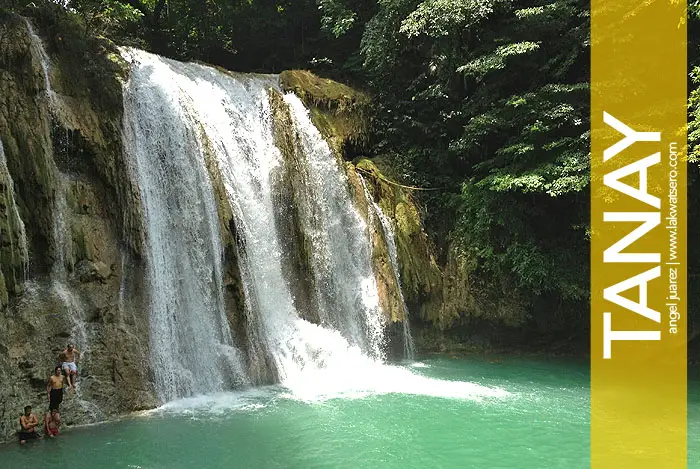 Go caving in Calinawan Cave; dip in the cold waters of Daranak, Batlag or Kay-ibon Falls; hike and swim to Tinipak Rock and Spring; pay a visit to Regina Rosali Institute for Contemplation in Asia or simply Regina RICA; catch the sunset at the Parola; trek to Mount Daraitan, Mount Batolusong or Nagpatong Rock; get close to Masungi Rock Formation; or drop by the centuries-old San Ildefonso Parish Church.
Aside from these attractions, Tanay is also an ideal location for team building and boot camp with numerous resorts that offer facilities and organize activities for such.
Isn't it surprising to know that there are lots of activities and attractions that await in Tanay? But the place is more than that! Discover and rediscover Tanay and be awed with all its offerings.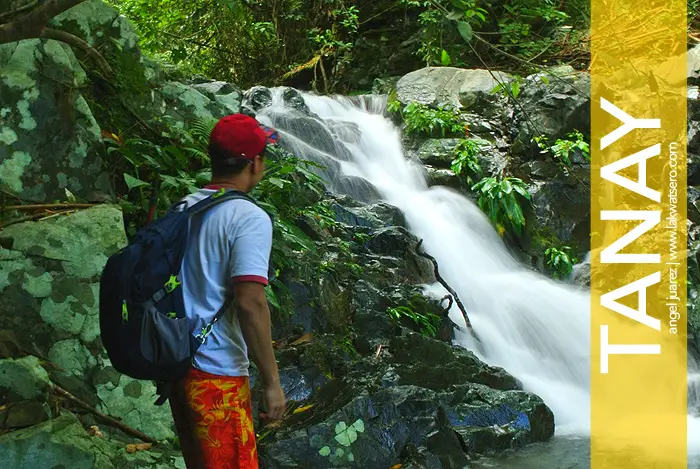 How to Go to Tanay
Going there via public transportation is as easy as breeze. If you are coming from Metro Manila, just go to the transport terminal in Starmall in the corner of Shaw Boulevard and EDSA or in EDSA Central Crossing near Unilever. Vans, buses and jeepneys going to Tanay Public Market are stationed there, travel time takes at least one-and-a-half hour and fare is around P70 for van and P53 for jeepney. From Tanay Public Market, flag a tricycle to take you to any attraction you want to visit. Public transportation going to Tanay is available as early as 4AM and as late as 10PM or depending on the passenger traffic.
There are also van from LRT Santolan in Marikina, fare is also P70 and travel time is also at least one-and-a-half hour. Meanwhile, from Araneta Center Cubao, take a jeepney to Cogeo or Antipolo and transfer to another jeepney going to Tanay.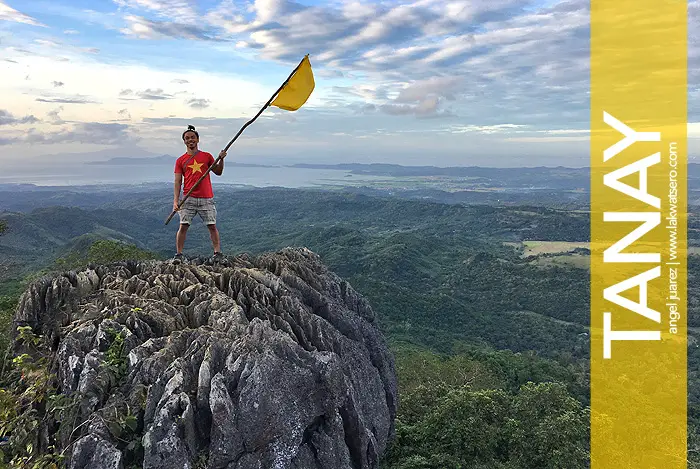 Going Around and Away
Tricycle is the primary mode of transport around the town, minimum fare is P8. But most attractions are long ride and requires special trip. Daranak Falls, Batlag Falls, Calinawan Cave or Regina Rica is P100 one-way for a trike that can fit at most three (3) passengers. Tinipak Rock in Daraitan is at P500 one-way but there is public jeepneys at the terminal that go there at 1PM and 3PM.
The best way to tour the attractions of Tanay is to charter a tricycle or a van. A trike can tour you to Regina Rica, Daranak and Batlag Falls, Calinawan Cave, Tanay Church and Parola for P400 for six (6) hours, maximum passenger is four persons. Jeepneys and vans can also be rented for as low as P750 to tour you in the nearby attractions of Tanay.
Going back to Metro, just catch a jeep or van at the transport terminal near Tanay Public Market or along the main thoroughfares of the town.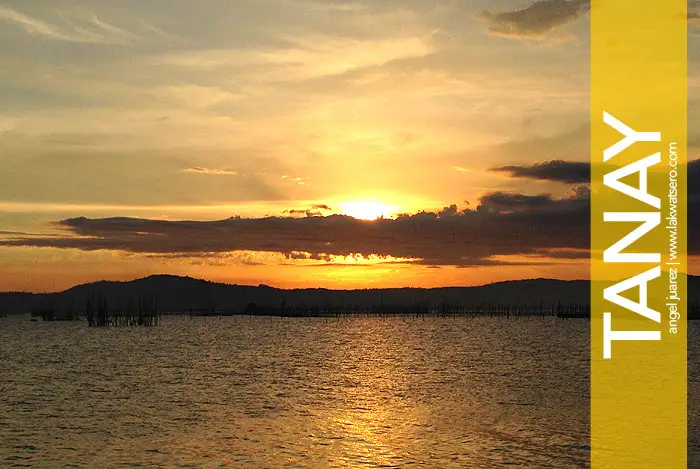 Where to Stay in Tanay
While Tanay can be done on a day trip from Manila, there are also hotels and resorts in town if you wish to spend overnight and explore more of the place. Some of these resorts are already destinations that feature facilities and various activities that are perfect for team building.
For budget travelers, Sampaloc Inn near Sampaloc Crossing has Economy Rooms for as low as P700 for 12 hours stay and P900 for one whole day. It gained positive reviews from a lot of travelers due to its accessibility and cheap rates.
Book Your Accommodation in Tanay
Sampaloc Inn
Sampaloc, Tanay, Rizal
Starts at 700 PHP

 Bakasyunan Resort
Plaza Aldea, Tanay, Rizal
Starts at 2,500 PHP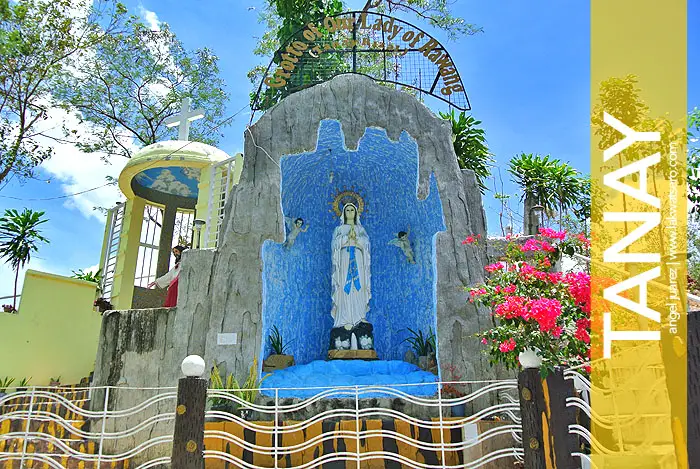 List of accommodations in Tanay:
Sampaloc Inn
Location: Sampaloc, Tanay
Rate: P650 – P1600
Contact Nos: +639393546945 / +639199908137 / +632-5462013
Email: [email protected]
Ten Cents to Heaven
Quite interesting name and an interesting resort which is already a destination itself. Nestled atop the rolling mountains of Tanay offering scenic view of the place and various activities such as wall climbing, ziplining, rappelling, rope course games and more.
Location: Sitio Mayagay II Cayambay, Tanay
Rate: P3000 – P15,000 / allows daytour
Contact Nos: +639999770026 / +6325422087
Sierra Madre Hotel and Resort
A landmark in Tanay, Sierra Madre Hotel and Resort is one of the oldest in town and yet charm continues to attract. It is a favorite stop and destination of bikers, they offer not only accommodation but various activities inside the resort.
Location: Kilometer 58, Marcos Highway, Barangay Mayagay, Tanay
Rate: P1,500 – P5,000 / allows camping at P350/person and daytour
Contact Nos: +639087208234 / +6324757320 / +6324757321
Momarco Resort and Hotel
Featuring various types of accommodations and function rooms, sports center, swimming pool, mini zoo, convention hall, restaurant and garden and very near Bathala Bike Park.
Location: Sitio Bathala, Plaza Aldea, Tanay
Rate: P400 (Barracks / Dormitory Bed) – P20,000 (For 30 pax) / allows camping at P350/person and daytour
Contact Nos: +639178513623 / +639285595306 / +639278229865 / +639189429873 / +632-4740912
JE Camp and Resort
The detention camp of former President Joseph Estrada is now turned into a tourist destination offering accommodation and various amenities and activities such as swimming pool, fishing village, mini zoo, mini theater, nature park and garden, reception hall, chapel, zipline, rock and wall climbing and rappelling areas.
Location: Camp Capinpin, Tanay
Rate: Allows camping at P150/person and daytour at P150/person
Contact Nos: +639391259407 / +639212071071 / +632-5721640
Email: [email protected]
Bakasyunan Resort and Conference Center
Another perfect place for team building with rooms for two and up to 50 persons. Featuring conference halls, swimming pool, camping area and area for various sports and outdoor activities such as zip line, rappelling, mudslide, ATV, wall climbing, airsoft ground, basketball and volleyball courts, and more.
Location: Sitio Balimbing, Plaza Aldea, Tanay
Rate: P2,000-P20,000 for private rooms / P500-P1,200 for daytour cottages / allows camping at P250/person and daytour at P250/person
Contact Nos: +639175755120 / +639989942514 / +632-8814515 / +632-5795818
Pranjetto Hills Resort and Conference Center
Another resort venue for team building located in Barangay Sampaloc. It boasts of its garden and adventure camp for activities such as zip-line, paintballs, land and aqua zorb, mountain climbing and rappelling.
Location: Sitio Mayagay, Sampaloc, Tanay
Rate: P3,000-P4,000 for private rooms good for four (4) adults/ P700 for daytour inclusive of lunch, morning snacks and afternoon snacks
Contact Nos: +639494065776 / +632-6971785 / +632-4015995 / +632-9943622
Email: [email protected]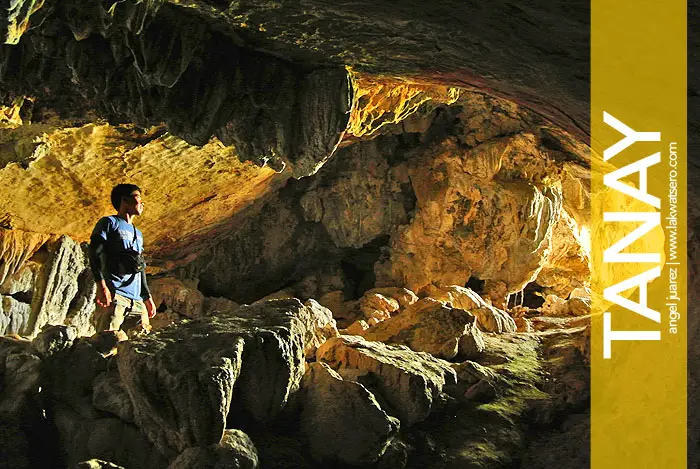 Activities in Tanay
Go waterfalling in Daranak, Batlag or Kay-ibon Falls
Explore Calinawan Cave and River
Hike and swim to Tinipak Rock and Spring
Go Biking in Bathala Bike Park
Visit Regina RICA
Climb the 200-steps staircase of the Grotto of Our Lady of Rawang
Catch the sunset at the Parola
Trek to Mount Daraitan, Mount Batolusong, Treasure Mountain, Mount Masungki or Nagpatong Rock
Trek to Mount Maynoba and Mount Cayabu and swim on its seven wonder falls
See the Masungi Rock Formation
Go on a team building or spend a day trip to different resorts and camps
Check-out the centuries-old San Ildefonso Parish Church
Join the fun of the yearly Hane Festival
Visit the attractions in the neighboring towns of Baras, Pililia and Morong