Introducing San Pascual, Masbate
For an archipelagic country made up of more than seven thousand landmass, a scenery of islands and islets scattered on azure water seems typical and ordinary. But those who truly love the sun, sea and sand know by heart that each island or islet or beach is different and unique. As beautifully unique as those in the town of San Pascual in the province of Masbate.
Situated in the northern coast of Burias Island, San Pascual is a quaint and laid back coastal town that relies on the bounty of Ragay Gulf, Burias Pass and Sibuyan Sea for their livelihood. There are more than three inhabited islands and a couple of uninhabited ones that make up the municipality, some are rocky, others are surrounded by white sand or just purely white sand.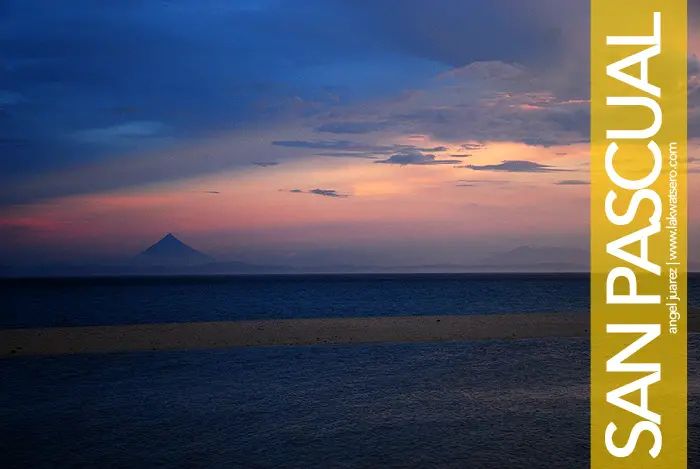 Generally speaking, San Pascual is not the usual tourist destination. The town's infrastructure is not designed for mass tourism and the facilities are not for the high-enders. It is in fact offbeat and raw, uncrowded and unspoiled. But a promise of brighter tourism industry is in the offing with its numerous white sand island beaches that sit atop its vivid water, all in the backdrop of the majestic Mayon Volcano on the distant horizon.
Bask in the white sand beaches of Sombrero Island, Tinalisayan Island and sandbar, Animasola Island or Ambulong Island; visit the centuries-old San Pascual Church, the oldest church in the Bicolandia; check out Balinsasayaw House, home to more than 80,000 balinsasayaw birds; see the old municipal hall and Spanish-inspired ancestral houses in town; join the fun of Isla Rancho Festival; and explore more to discover the manifold of surprises that the town offers.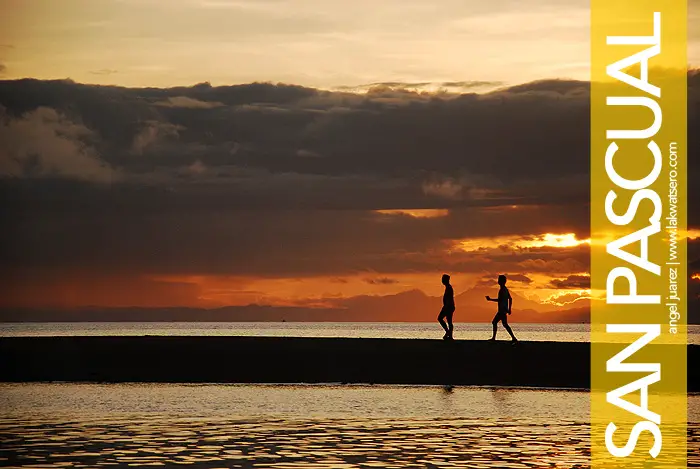 How to Get to Burias Island (San Pascual)
Naga to San Pascual via Pasacao
The town of Pasacao of Camarines Sur is the common jumpoff point to San Pascual. There are three public boat that departs daily from the port of Pasacao scheduled at 7AM, 10AM and 2PM, travel time is two to three hours and fare is P130 (as of May 2015).
Pasacao is accessible via 30-minute jeep ride from their own terminal in Naga City. Earliest trip is 530AM, fare is P30.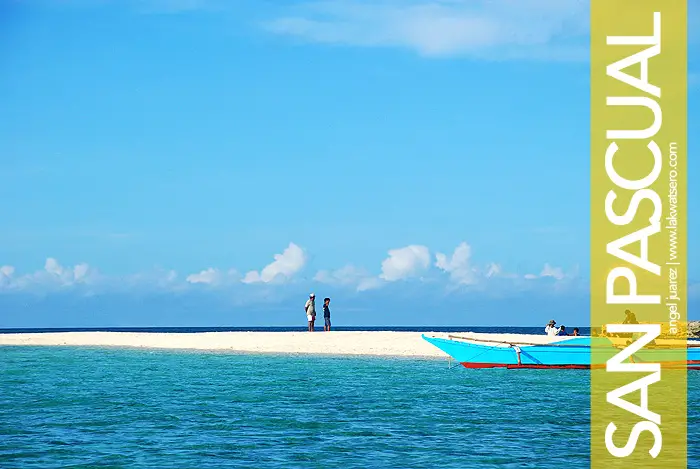 From Manila to Naga
Philippine Airlines and Cebu Pacific fly from Manila to Naga. Meanwhile, Peñafrancia Tours, Raymond Bus (Contact No: 02-7339380), DLTB, RSL Bus, Phitranco, Isarog Bus, Amihan Bus, Raymond Bus and Executive Bus have daily bus trips from Manila (Cubao/Pasay/Alabang) to Naga. Bus fare varies from P500 to P800 one-way, travel time is eight (8) to nine (9) hours.
Alternatively, fly from Manila to Masbate City via Philippine Airlines. From Masbate City, transfer to a boat going to San Pascual. MB Mark Mike has a schedule trip from Masbate City to San Pascual every Tuesday and Saturday only at 6AM, travel time is eight (8) to nine (9) hours, contact number +63930625829
You can book your plane or bus tickets from Manila to Naga and vice versa below.
BOOK YOUR BUS/FLIGHT FROM MANILA TO NAGA
From Cebu to Naga via Legaspi
By plane, Legazpi City is the nearest airport with direct link to Cebu City. Cebu Pacific has scheduled flight from Mactan Cebu International Airport to Legazpi. From Legazpi City, take a van or bus to Naga City, travel time is at most two hours.
By boat, Cokaliong and Trans Asia have regular trips from Cebu City to Masbate City. From Masbate City, transfer to a boat going to San Pascual, departure is every Tuesday and Saturday only, travel time is eight (8) to nine (9) hours.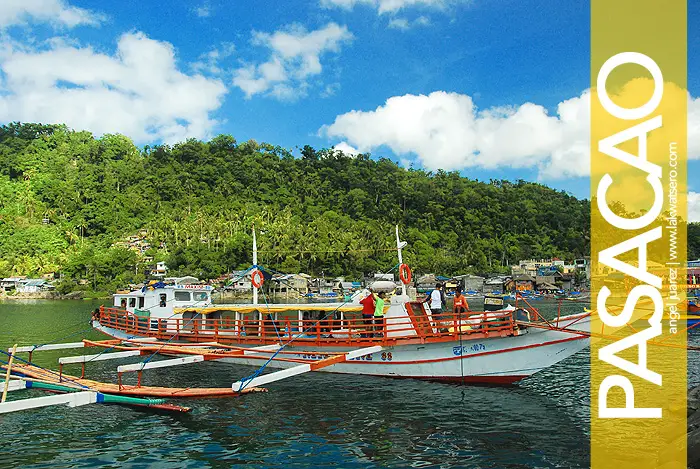 Going Around and Away
Tricycle and habal-habal (motorbike) are the primary mode of transport in mainland San Pascual. Minimum fare is P7. There are scheduled jeepney trip daily for those going to the neighboring town of Claveria.
To explore the islands, a boat can be hired for as low as P1500 for 24 hours, good for six persons. Proceed to Tourism Office at the Port of San Pascual for registration and they will help you find a boat for the island hopping.
Going out of San Pascual, there are boats scheduled to depart for Pasacao at 5:30AM, 9:30Am and 2:30 PM Daily. Travel time is two to three hours and fare is P130 (as of May 2015).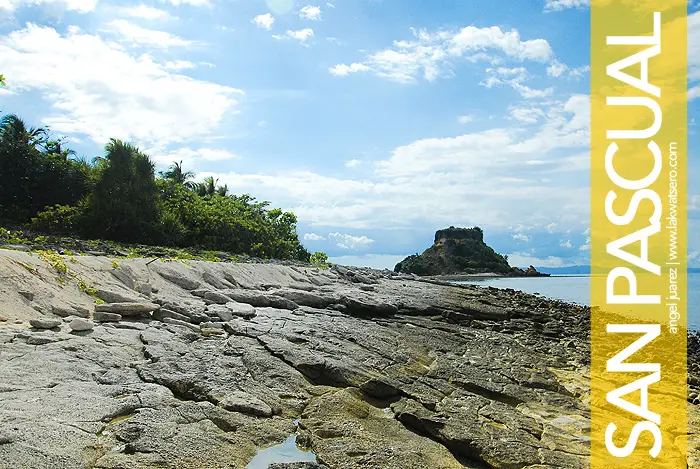 Where to Stay in Burias Island (San Pascual)
There is no high end hotel in San Pascual, only home stays, lodging inns or beach resorts that offer basic accommodations.
Sunset View Tourist Inn
Poblacion, San Pascual (near the port)
Single A/C Room with TV (shared bathroom) – P680
Double Deluxe A/C Room with TV (shared bathroom) – P1,300
Family A/C Room (for six) with TV and private bathroom -P2,500
Contact No: 09484729467 / 09108056661
MSS Fuentes Lodging House
Poblacion, San Pascual (near the port)
As low as P200 per room per night
Virjen Island Resort
Virgin Island, San Pascual
As low as P750 per room per night (good for two)
Sombrero Island Resort
Sombrero Island, San Pascual
Open cottage – P700/per night
Closed Cottage with toilet and bath – P3000
Alternatively, you may bring a tent and camp in Sombrero, Tinalisayan or Ambulong Island. Entrance fee at Sombrero Island is P20 per person. Entrance fee at Tinalisayan Island is P10 per person while open cottage rental is P300.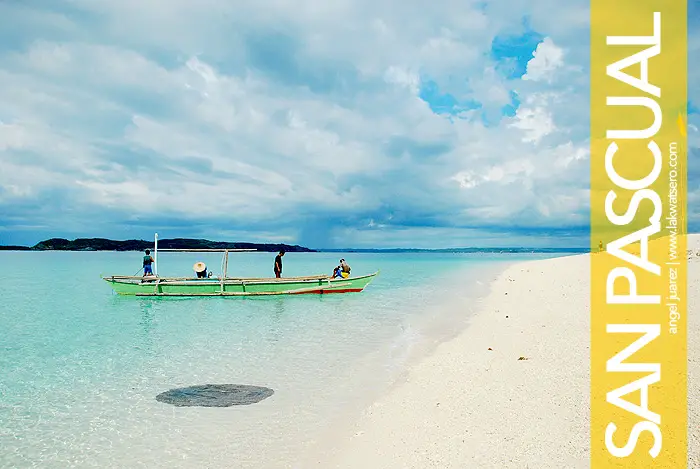 Top Things to Do in Burias Island (San Pascual)
Island and Beach Hoppping: Sombrero Island, Tinalisayan Island and Sandbar, Animasola Island, Virgin Island and Ambulong Island
Visit the oldest church in Bicolandia – San Pascual Church
See more than 80,000 swiftlets or balinsasayaw birds at Balinsasayaw House
Stroll in the town and look for the old ancestral houses
Check out the century-old municipal house
Join the fun of Isla Rancho Festival
Scuba Diving, Free Diving or Snorkeling (bring your own equipments and gear)
Camping
Kayaking and other water sports
Sunset/Sunrise watching
Go to Alibijaban Island  of San Andres, Quezon for a side trip
Explore Naga City and suburbs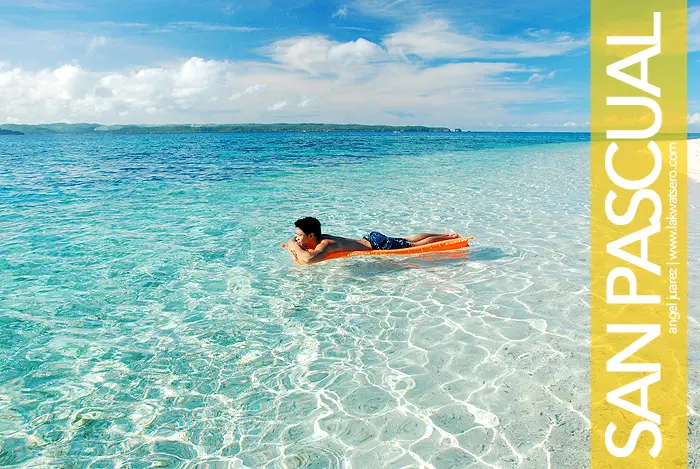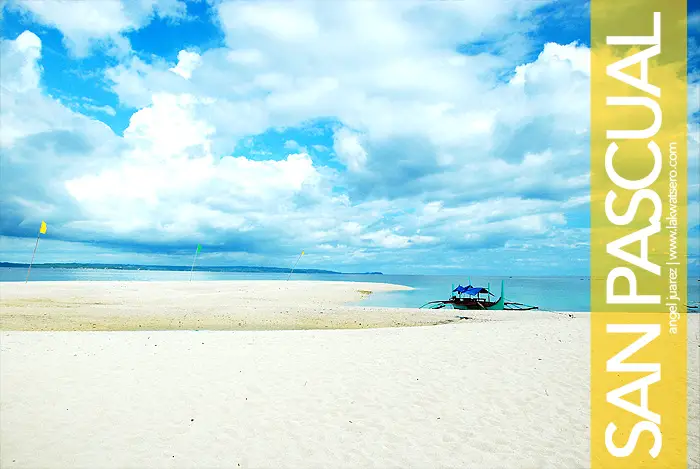 Sample Weekend Itinerary in Burias Island (San Pascual)
Day 0:
2100H: Departure from Pasay to Naga
Day 1:
0600H: Arrival in Naga / Breakfast / Shop for supplies / Proceed to Pasacao Port
0830H: Arrival in Pasacao Port / Purchase Ticket
1000H: Pasacao to San Pascual Boat Ride
1400H: Arrival in San Pascual / Register in Tourism Office / Find a Boat for Island Hopping
1430H: Island Hopping: Sombrero Island + Tinalisayan Island
1700H: Camp in Tinalisayan Island / Sunset Watching / Free Time
Day 2:
0500H: Call Time / Sunrise Watching / Breakfast / Break Camp
0600H: Island Hopping: Tinalisayan Dako + Sandbar + Tanguingui Island + Animasola
1200H: Back in San Pascual Town / Visit the Old Church, Ancestral Houses and Balinsasayaw House / Lunch / Proceed to San Pascual Port
1400H: Assembly in San Pascual Port
1430H: San Pascual to Pasacao Boat Ride
1700H: Arrival in Pasacao / Jeep to Naga
1800H: Arrival in Naga / Dinner at Bigg's or First Colonial / Buy Pasalubong / Proceed to Terminal
2100H: Naga to Manila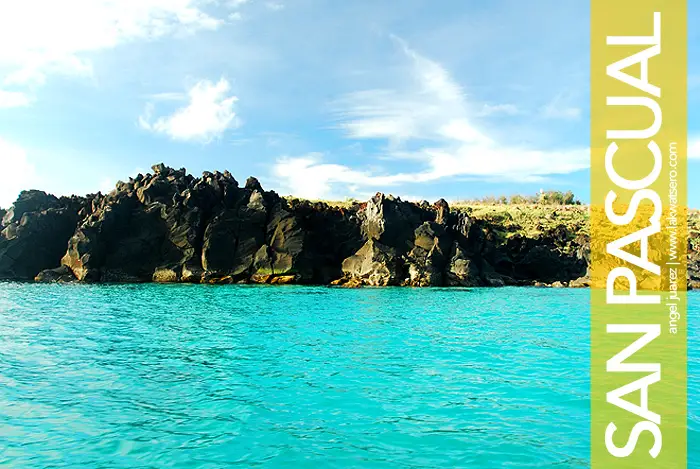 Other Tips
Best time to go is during dry months (November to May)
No ATM in town and no establishment accepts credit card or traveler's check
Globe, Smart and Sun have mobile signal in main town and some islands
Purchase a return ticket (Naga to Manila) as soon as you arrive in Naga en route to San Pascual
First Published: 30-Sep-2013 | Updates: 14-Aug-2017; 26-Jan-2018; 09-May-2019; 16-Aug-2019; 02-Mar-2020