About Biri
If there is one place that best represents Northern Samar to the tourism map, it is most probably the island municipality of Biri.
Biri is a typical laid back Philippine island, rural and quaint. Home to not more than 12,000 inhabitants, its coast is rugged yet scenic while its water is wild yet bountiful. Locals here live in a slow paced quiet life on the backdrop of the continuous roaring of waves of the Pacific.
Situated off the coast of the towns of Lavezares and Rosario, it is the northernmost town and island not only of Samar Provinces but of the entire Visayan archipelago. It lies on the open water where San Bernardino Strait and Pacific Ocean meet, with mainland Bicol on its west. But what makes the island popular are the seven massive rock formations that dot its northern coast – Magasang, Bel-at, Magsapad, Caranas, Macadlaw, Puhunan and Pinanahawan.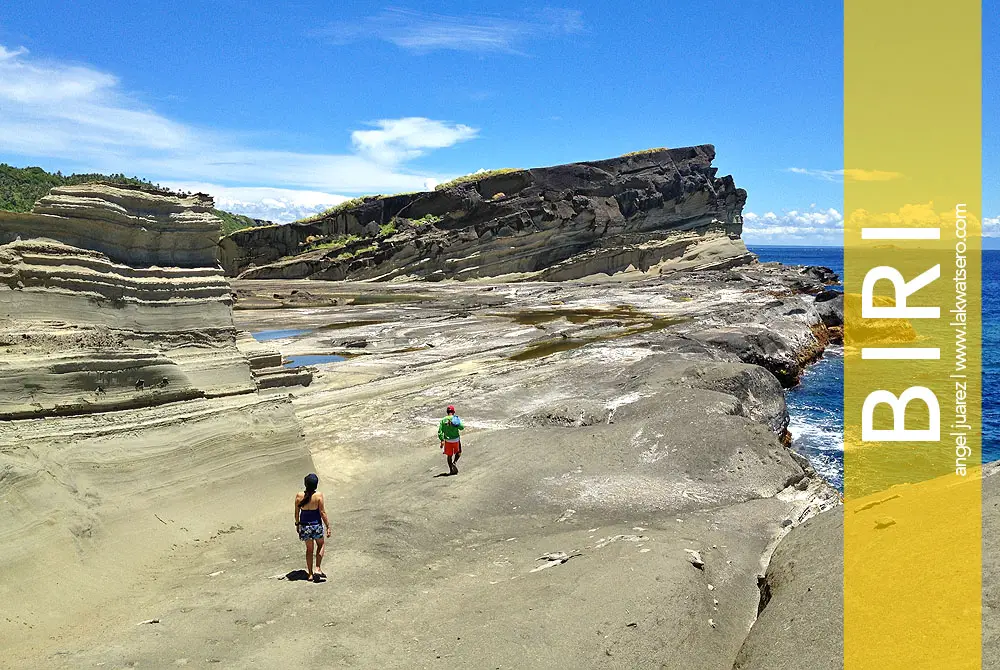 These rock formations are believed to be deposited 18 to 24 million years ago in shelfal continental slope and formed by the underwater tectonic plates movement generated by earthquakes according to the study conducted by National Institute Geological Sciences Research of UP Diliman.
Today, these imposing rock formations of Biri are towering icons of the island, magnificent wonders created by nature itself that continue to attract tourists. Be amazed in a place that literally and figuratively rocks! Visit Biri!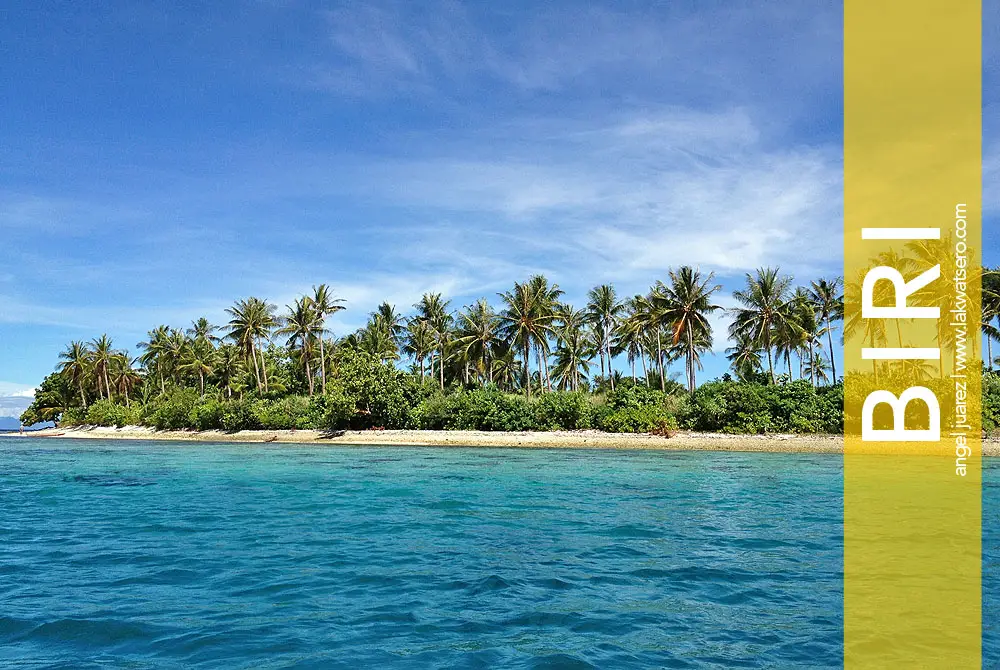 How to Get to Biri
By Air
The nearest airports to Biri with commercial flights are in Catarman and Calbayog, both in Northern Samar. Philippine Airlines is the only airline that operates commercial flights from Manila to these two airports, and vise versa.
From Catarman or Calbayog, ride a trike for P50/person to take you to the terminal or to main road where jeepneys going to the town of Lavezares pass. Ask the driver to drop you off at the port where boats to Biri are docked, travel time takes approximately an hour-and-a-half and fare is P50/person. Pumpboats regularly depart from Lavezares port for as early as 6AM and as late as 4PM, sometimes even beyond if there's traffic. Sailing time is approximately one hour and fare is P50/person. Boats depart only if they reach the maximum capacity, if you are in a hurry, you can charter a boat for as low as P300.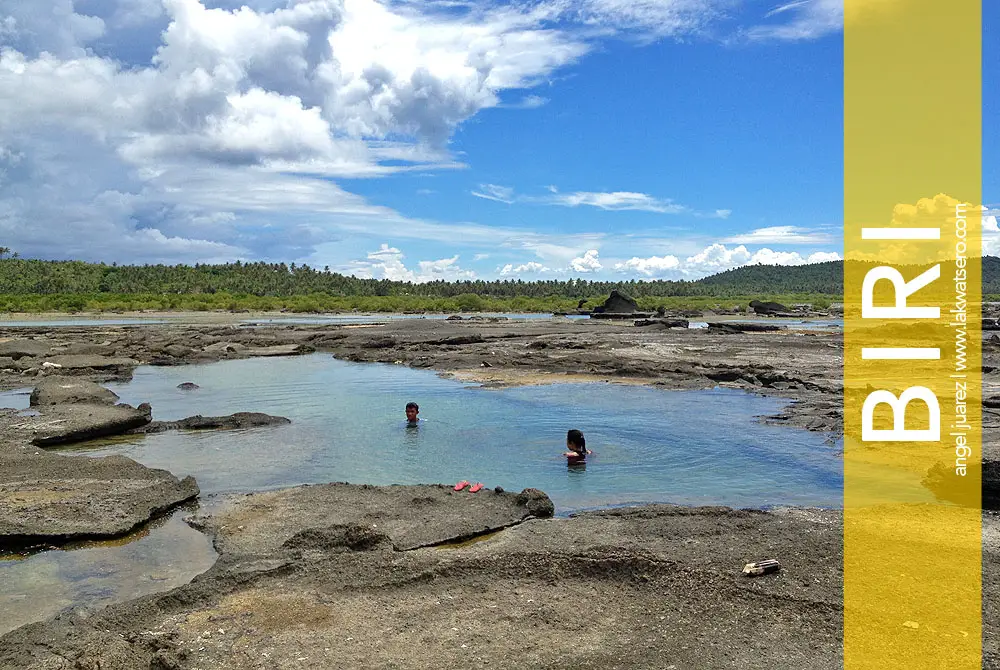 By Land
For those traveling by land either from Manila or Bicol, you may catch a boat from Matnog straight to Biri. The boat is not in the main ferry or RoRo terminal but on a beach on the side of the port, near the bus terminal, fare is P150 and travel time is approximately one hour. There is no fix schedule but there are at least two departures – one in the morning 7AM and one in the afternoon before 1PM. The boat may be hard to locate, but just ask around, the locals know where it is.
Alternatively, you may catch a ferry from Matnog to Allen and transfer to a trike or jeepney going to Lavezares. Travel time is around 20 minutes and fare is P20/person.
Buses from Manila that go to Matnog are those that cross San Bernardino Strait bound to Samar and Leyte. Philtranco, Eaglestar, Silverstar, Ultrabus, CUL, PP Bus Line, Mega Bus, Belleza Line, Fortune Star, San Juanico, St. and Michael Bus Liner are some of the buses that serve the route.
For those coming from Leyte and Surigao, catch a Manila bound bus and get off at Allen then transfer to a trike or jeepney going to Lavezares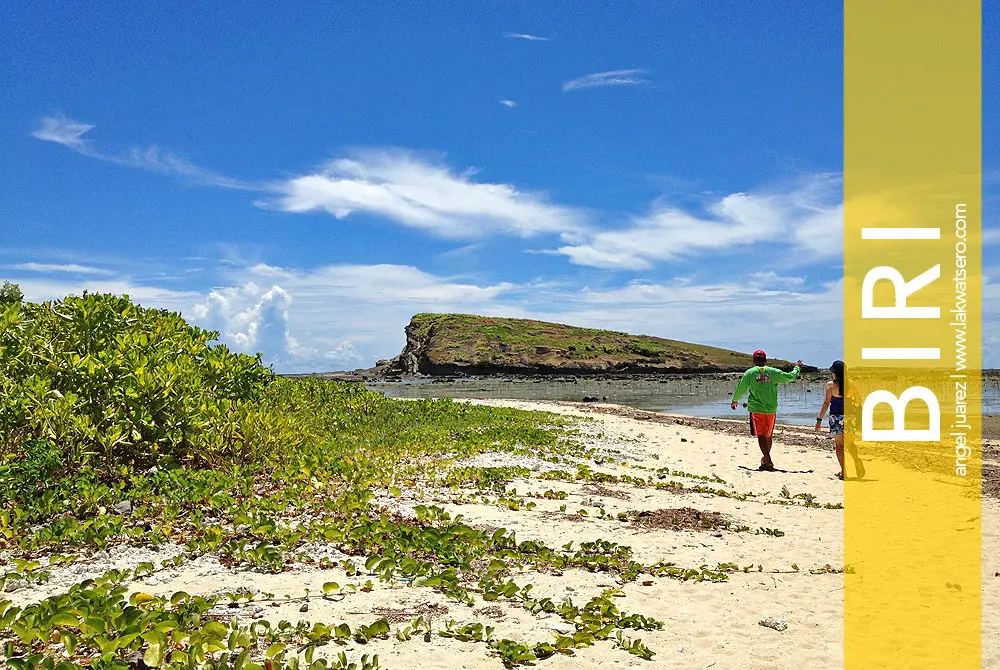 Going Around and Away
Motorbike locally called habal-habal is the common mode of transport around the island. Minimum fare is P10/person.
Going back to mainland, you can go to Biri Port to catch a boat to Lavezares or to the boat docking area near Poblacion for the boat to Matnog.
If you want to tour the island and see the rock formations, you can charter a habal-habal to see them all. We paid P700 for the tour (2 pax) but you can haggle to as low s P500 if you are solo, the driver will serve as your guide. You can also commute to any for the rock formations, rate varies.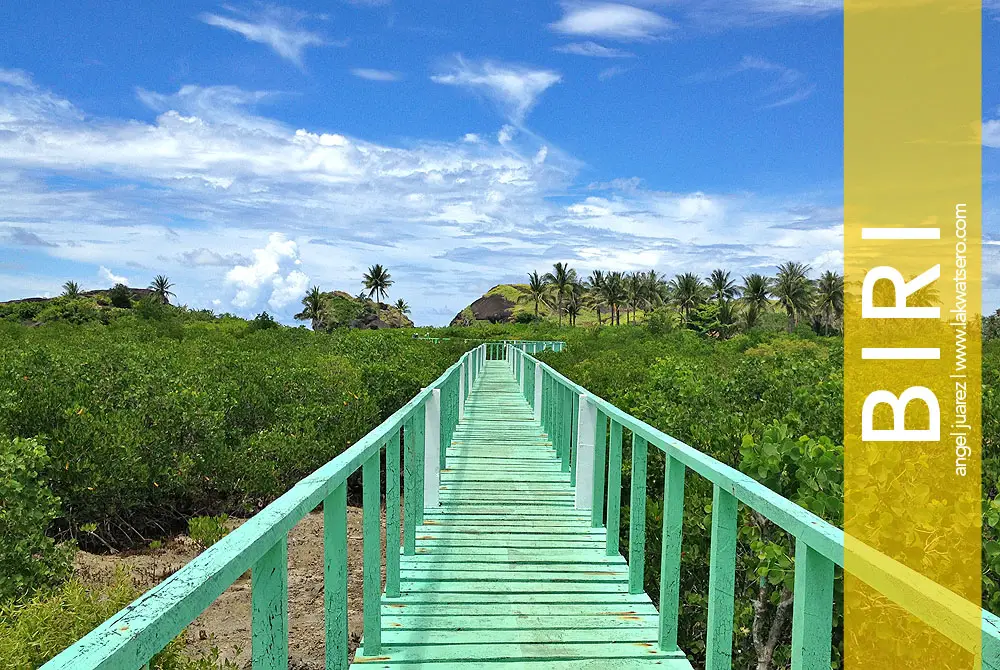 Where to Stay in Biri
There is no high end hotel in Biri, only home stays, lodging inns or beach resorts that offer basic accommodations. Our stay was on Biri Scuba Resort since we also arranged our dives with them. Room rate is as low as P700 for a fan room, good for two persons. The room is spacious and the resort has a huge garden area.
Here are the commercial lodgings in Biri to date:
Biri Scuba Resort (Biri Resort and Dive Center)
Delos Reyes St., Poblacion , Biri, Northern Samar
Contact No: +639292884904
Glenda's Bed and Breakfast
Brgy. Sto. Niño, Biri, Northern Samar
Contact No: +639082490590
Villa Amor Hotel
Delos Reyes St., Poblacion , Biri, Northern Samar
Contact No: +639474054175
Balay sa Baybay
Delos Reyes St., Poblacion , Biri, Northern Samar
Contact No: +639176283895
Cagnipa Beach Resort
Cagnipa Island, Biri
For homestay, check out Ate Glo's Homestay  for only P150/day. Contact +639208698668 for reservation and more information.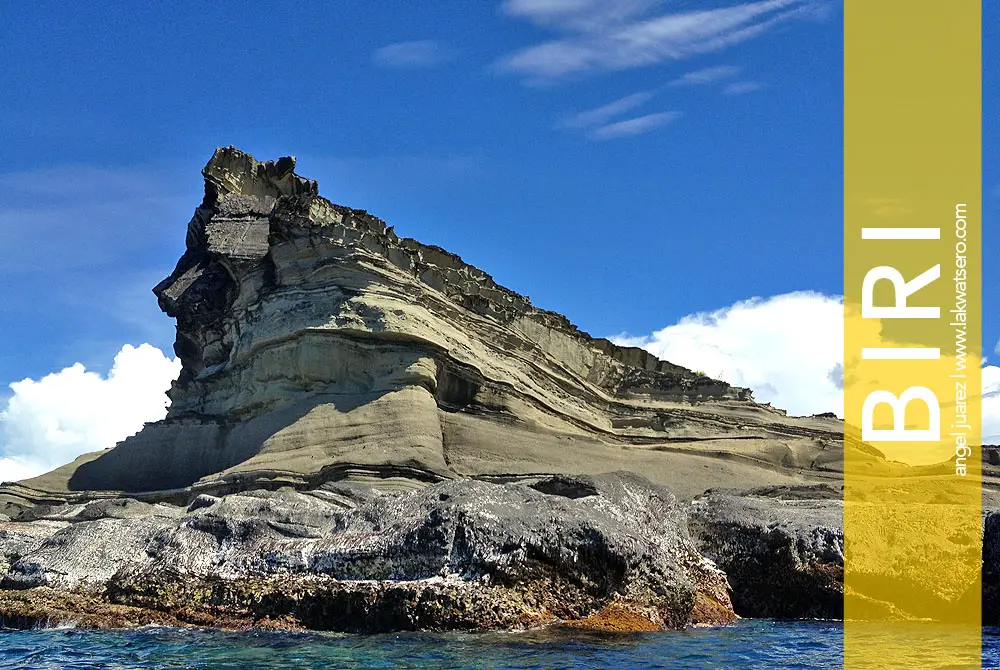 Where to Eat in Biri
There are no fancy restaurants in the island, only eateries and local restaurants offering inexpensive local foods. Ask the locals where they are as they are quite off the main road. Most lodges can cook for you for a fee.
What to Do in Biri
Visit the seven rock formations: Magasang, Bel-at, Magsapad, Caranas, Macadlaw, Puhunan and Pinanahawan.
Scuba diving: There are twenty known dive sites and more that are still undiscovered. Best time to go diving is during summer or dry months, from February to May. Biri Resort and Dive Center is the only dive operator in the island, contact number is +639155090604.
Snorkeling and free diving: you can hire a boat for as low as P300 for snorkeling and free diving. Bring your own equipment.
Island hopping to nearby islands of Biri and even Matnog (Calintaan Island, Tikling Island / Subic Beach, etc.)
Visit the beaches of Cagnipa Island and Solerahan
Surfing, kayaking, paddleboarding and fishing. Surfing season is from September to January.
See the old lighthouse in San Bernardino Island
Visit Capul Island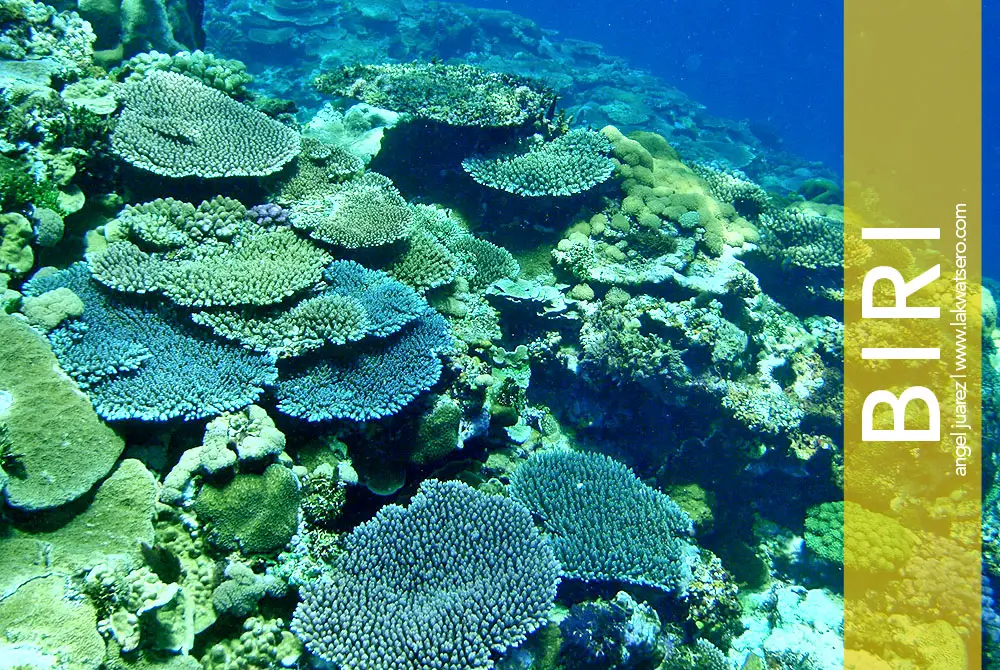 Other Tips
Every tourist is required to pay P50 for the environmental fee, you can pay at a counter in Bel-At Rocks
Biri Island can be done as a day tour
No ATM in the island and no establishment accepts credit
Electricity runs only from 12 noon up to 12 midnight
Globe, TNT, Smart and Sun Cellular have mobile signals
Best time to visit is during dry months (March to May)