About Caramoan
Caramoan is a paradise in the farthest coast of Camarines Sur, hidden in underdeveloped and rural soil where white sand beaches, limestone cliffs, beautiful and islets are common scenery.
A peninsular town, Caramoan is a group of islands and islets scattered in the Pacific Ocean, endowed with nature's beauty and preserved by its seclusion.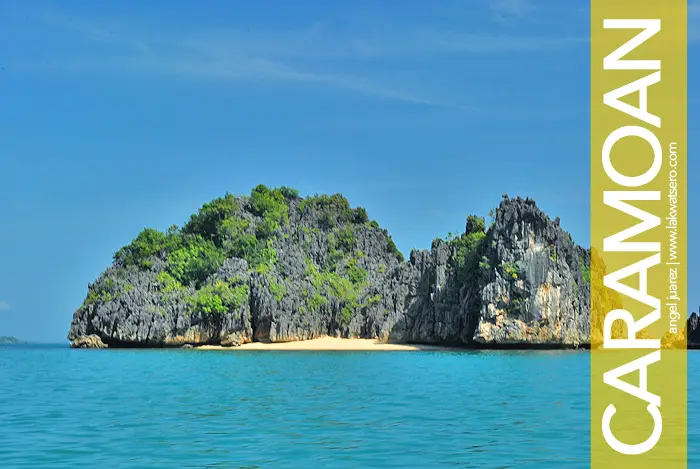 The place is made famous by the hit global reality show franchise "Survivor" and became a favorite shooting location due to numerous islands with fine white sand, lagoons, caves, limestone cliffs and rocks, and rich marine life that give a new definition to an island experience. But even before the "Survivor" series, there was already Caramoan – beautifully unspoiled and unexploited.
With its natural beauty and rich history, Caramoan stands proud as a real tourism gem of Bicolandia that holds a promise of a perfect tropical island adventure!
Come south! Cam Sur! Caramoan!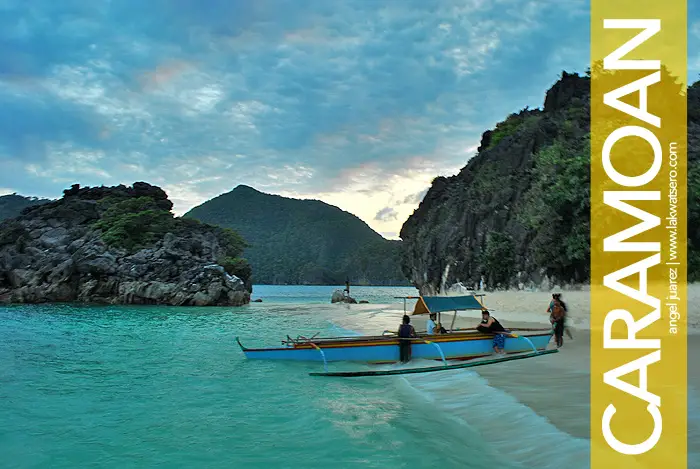 How to Get to Caramoan
1. Manila to Caramoan via Naga 
A. Manila to Naga
By plane, Philippine Airlines and Cebu Pacific fly from Manila to Naga. By bus, RSL Bus, Phitranco, Isarog Bus, Amihan Bus, Raymond Bus and Executive Bus have daily trips from Manila (Cubao/Pasay/Alabang) to Naga, fare varies from P500 to P700 one-way with travel time of approximately 8 hours. You may also opt to take the Peñafrancia Tours (P780) and Raymond Bus (Contact No: 02-7339380) that go directly to Sabang Port from Manila, travel time is 9 to 10 hours.
You can book your bus from Manila to Naga or vice versa below:
BOOK YOUR BUS FROM MANILA TO NAGA
B1. Naga to Sabang to Caramoan (Boat)
Catch a jeep, van or bus going to Sabang Port in Naga Central Terminal, fare is around P60-P100 one-way for a travel time of two hours. Sabang Port in the town of San Jose, Camarines Sur is the common jump-off point to Caramoan Islands. There are RoRo and trigger boats that leave every hour from 6AM to 11AM from Sabang to Guijalo Port of Caramoan, fare is P120 per passenger. If you miss the last public boat, you can hire a private boat to Guijalo Port. Range varies depending on the size of the boat and your haggling skill but a boat that can accommodate up to 16 persons usually costs P2500-P3000.
When it is low tide in Sabang, the boats couldn't get near the shore, but the porters are there to carry passengers on their backs. They charge P10 per passenger.
B2. Naga to Caramoan (Bus)
Land trips direct to Caramoan from Naga are available only during good weather. Naga to Caramoan takes five hours by public jeepney or bus, fare is at P230 per passenger, Goa to Caramoan takes four hours at P200 per passenger.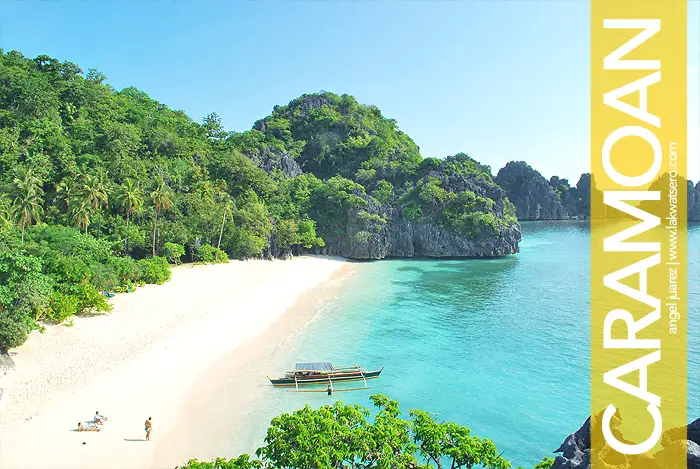 2. Manila to Caramoan via Catanduanes 
Another alternative, which is unknown to many is to go to Virac, Catanduanes and catch a two-hour boat going to Caramoan. This route is easier compared to Naga.  Philippine Airlines and Cebu Pacificc fly directly from Manila to Virac. There are also buses bound for Catanduanes from Manila, you can book your seat below:
BOOK YOUR BUS FROM MANILA TO CATANDUANES
Where to Stay in Caramoan
The town has a lot of hotels and inns to choose from for those tourists who prefer staying indoor. But for more adventurous type, camping in one of the islands is a cheap and fun way of experiencing Caramoan.
Top-Rated Hotels in Caramoan
West Peninsula Villas
Malabog, Caramoan
Starts at 1,500 PHP

Casita Mia Bed & Breakfast
Malabog, Caramoan
Starts at 1,500 PHP
Top-Rated Budget Accommodation in Caramoan
La Casa Roa
Malabog, Caramoan
Starts at 750 PHP

Breeze and Wave Cottages
Paniman, Caramoan
Starts at 750 PHP
Here's the list of hotels, inns and lodges in Caramoan: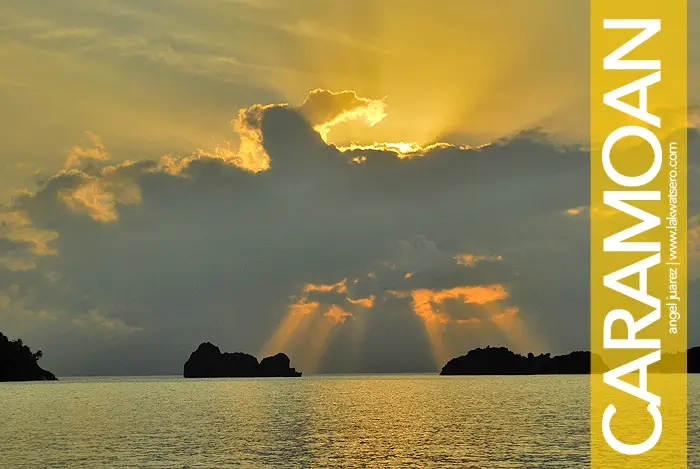 Activities in Caramoan
Island and beach hopping around Caramoan Group: Sabitang Laya, Manlawig Sandbar, Cotivas, Lahuy, Gota, Lahus, Matukad, Pitogo, Minalahos, Hunongan, Tinago, Haponan, Basod
Swimming/Snorkeling (be careful of the jellyfish though)
Camping – just bring your own camping equipments, enough foods and water supply, there are a lot of islands to choose from (those that aren't use in Survivor taping)
Spelunking in Culapnit Cave
Visit St. Michael Parish, an old red-brick church
Trek to Mt. Caglago with the 500-steps to the summit and see the 360 degree view of the Caramoan Islands and the gigantic statue of Our Lady of the Holy Rosary Mother of Peace
Explore Naga, visit Camarines Sur Water Sports Complex and Penafrancia Church
Head south and visit the spots of Albay and Sorsogon
Head north and explore the islands of Mercedes Group, Calaguas Group and Maculabo or surf in Daet's Bagasbas Beach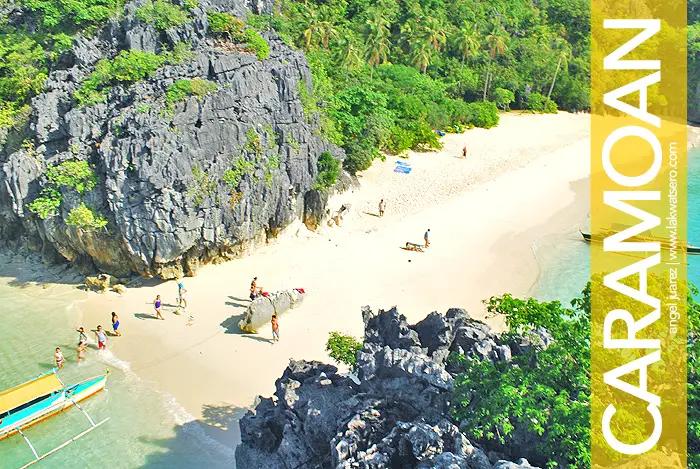 Tips
The best time to go there is during dry months (November to May)
If you will go camping, be sure to choose an island not being used by the Survivor
Survivor rented the island for 25 years starting 2008, meaning, tourists will not be able to explore the island freely up to 2033 if the contract is not extended
Sample Weekend Caramoan Itinerary
Day 0: Enroute to Sabang
2100H: Departure in Cubao to Sabang via Penafrancia
Day 1: Explore Caramoan
0730H: Arrival in Sabang
0730H-0900H: Breakfast in Sabang
0900H-1100H: Sabang to Guijalo, Caramoan via Public boat (P120.00)
1100H-1130H: Guijalo Port to Centro Caramoan
1130H-1330H: Lunch/Buy camping supplies, water, foods
1330H-1400H: Centro to Paniman/Look for boats
1400H-1800H: Island Hopping – Manlawig, Sabitang Laya, Matukad
1800H onwards: Setup camp/Prepare Dinner/Dinner/Rest/Bonfire/Socials/Party
Day 2: More of Caramoan & Return to Manila
0600H: Wake-up Call
0600H-0700H: Breakfast
0700H-0930H: Explore Matukad/Swimming/Beach Bumming/Cliff Climbing/Photo Ops
0930H-1000H: Break camp/Clean-up
1000H-1030H: Matukad to Paniman via Gota
1030H-1130H: Fix-up/Paniman to Cadong
1130H-1400H: At Cadong – Wash-up/Lunch/Rest/Fix-up/Buko Party
1400H-1430H: Cadong to Guijalo Port by jeep
1430H-1630H: Guijalo to Sabang by boat
1630H-1830H: Sabang to SM City Naga
1830H-2100H: Rest/Dinner
2100H: Departure in Naga to Cubao
Day 3: Back in Manila
0630AM: Arrival in Cubao
*First published: 16-September-2010. Updated: 11-June-2013; 26-November-2017; 1-Jan-2018; 18-Jul-2019