About Anawangin
The eruption of Mount Pinatubo in 1991 changed the landscape of Central Luzon and among the changes it brought is the emergence of coves on ash and sand mixture, one of which is Anawangin Cove.
Anawangin Cove is in the town of San Antonio in the province of Zambales, facing the South China Sea. It can be reached via half an hour boat ride from Barangay Pundaquit or San Miguel, or via a four to six hours trek of Mt. Pundaquit.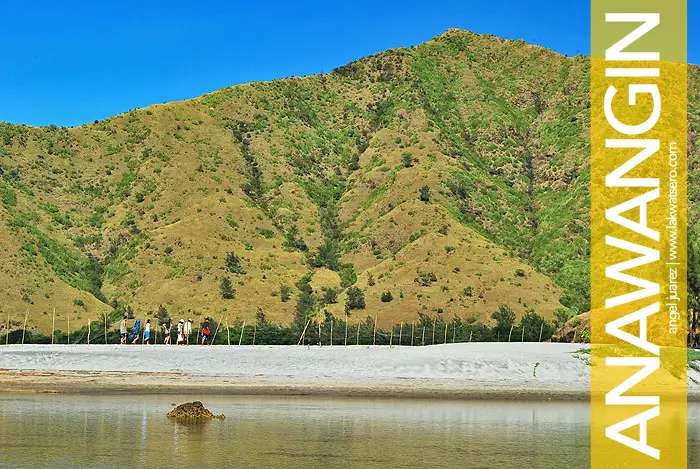 It used to be mountaineers' secret getaway after a climb, today it is an open secret. Anawangin Cove, along with Talisayen, Nagsasa and Silanguin, is now a famous camping getaway of tourists from all walks of life.
The placid Anawangin River that flows from Mount Balingkilat to the roaring South China Sea adds beauty to what is already a sight to behold. Through the years, the hidden cove has maintained its allure and serenity that can be attributed to its remoteness.
Experience a back-to-basic living and fall in love with this secluded cove. With no electricity and mobile signal, Anawangin is your perfect weekend getaway.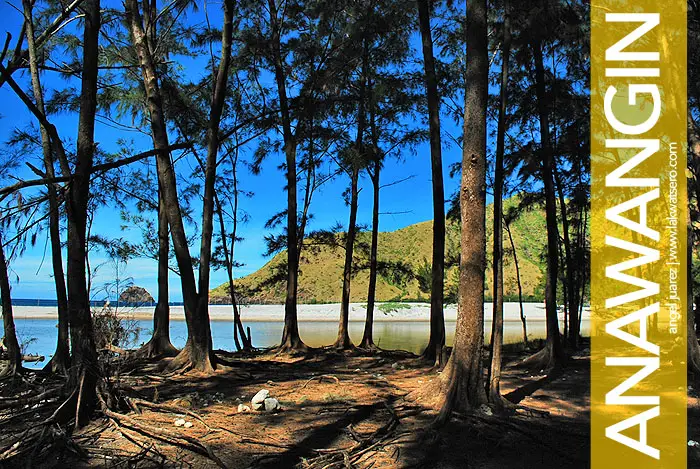 How to Get to Anawangin
Bus: Manila to San Antonio (Zambales)
To get to Anawangin from Manila, ride a bus bound to Iba or Sta. Cruz, Zambales via Olongapo. Victory Liner has scheduled trips to these destinations. Tell the driver to drop you off at San Antonio. Fare starts at P270, travel time is around 3 to 4 hours via NLEX.
Upon reaching San Antonio, transfer to a tricycle to Barangay San Miguel or Pundaquit, standard rate is P30 per person, you may opt to add some tip since it is quite far.
Boat to Anawangin
Boats can be chartered at Barangay San Miguel or Pundaquit going to Anawangin, rate starts at P1,000 for Anawangin – Capones round trip good for maximum of four persons. Travel time from Pundaquit to Anawangin is roughly 45 minutes.
Pundaquit Boat Rate (As of 2020)
| | | |
| --- | --- | --- |
| Destination | Small Boat Rate (1-4 person) | Big Boat (Minimum 10 person) |
| Camara | P1,000/boat | P150/person |
| Capones | P1,200/boat | P200/person |
| Anawangin | P1,200/boat | P200/person |
| Talisayen | P1,700/boat | P300/person |
| Nagsasa | P2,000/boat | P400/person |
| Silanguin | P3,000/boat | P600/person |
Note: Side trip – additional P100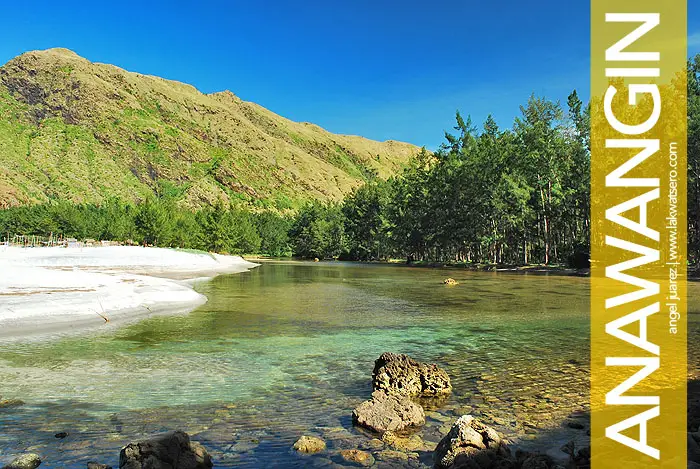 Where to Stay in Anawangin and Pundaquit
Since there is no commercial establishment in this island, you may bring a tent or camping equipments (plus foods and drinking water) if you are planning to stay there overnight. Just tell the boatman your planned date and time of return to San Miguel/Pundaquit.
If you are not into camping, you can have a day trip in Anawangin and stay overnight in Pundaquit or San Miguel where numerous hotels and restaurants can be found.
Accommodations in Pundaquit
Lalyn's Home in San Antonio
Pundaquit,San Antonio, Zambales
Starts at 3,000 PHP (4 Guests)

 DG Paraiso Restaurant
Pundaquit,San Antonio, Zambales
Starts at 3,500 PHP (4 Guests)
Here are other accommodations in Barangay Pundaquit and San Miguel.
Casa San Miguel Bed & Breakfast
Evangelista St., Brgy. San Miguel, Zambales
Contact No: +639178382752
Megan's Beach Resort
Contact No: (047)6210507, (047)9133784, +639194808520
Email:[email protected]
Nora's Beach Resort
Contact No: +639182788188/+639196374917
Punta De Uian
Contact No: (047)2522692/+639188888426
Email: [email protected]
Wild Rose Beach Inn
Contact No: +639106615613
Email: [email protected]
Things to Do in Anawangin and Nearby Areas
Camping
Trek to Mt. Pundaquit, Mt. Nagsasa, Mt. Cinco Picos or Mt. Balingkilat
Surfing (Bring your own board if you will be surfing in Anawangin, otherwise you can surf in the nearby Crystal Beach with surfing equipment for rent)
Skimboarding (Bring your own skim board)
Island and Beach Hopping in nearby Nagsasa Cove, Capones Island, Camara Island, Talisayen Cove and Silanguin Cove
Sidetrip to Capones Island and see the century old Capones Lighthouse
Explore Palauig, Potipot, Masinloc, San Narciso or Liwliwa (San Felipe)
Check out Anghalo Falls in San Felipe
Taste the sweet mangoes of Zambales
Trek to Mount Pinatubo Crater Lake via Botolan
Enjoy arts and music at Casa San Miguel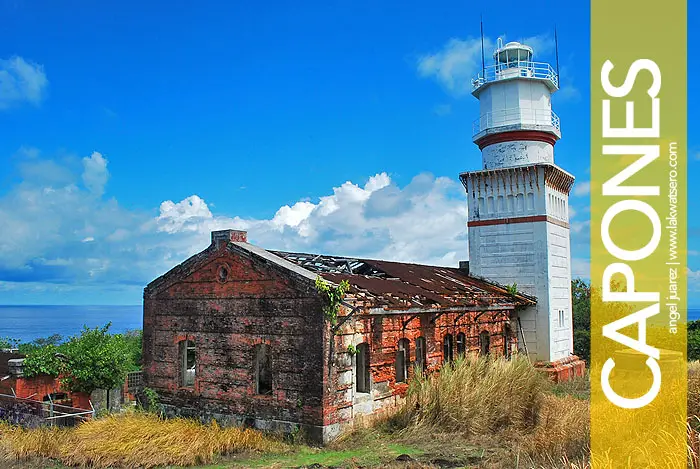 Anawangin Itinerary (Sample)
DIY weekend camping itinerary
Day 1
0500H : Departure from Manila to San Antonio, Zambales
0930H : Arrival in San Antonio
0930H – 11:00H: Market to buy necessary camping supplies, foods and other equipments, bring packed lunch or buy from the market, proceed to Pundaquit or San Miguel via trike to ride the boat
1100H – 1200H: Pundaquit or San Miguel to Anawangin
1200H – 1400H: Setup camp, fix stuff, lunch
1400H – 1800H: Explore, swim, photo ops
1800H – 2000H: Wash-up, prepare dinner
2000H – 2100H: Dinner
2100H onwards: Bonfire, Night party, Socials
Day 2
0600H: Wakeup Call
0600H – 0800H: Breakfast, fix-up, break camp
0800H – 0900H: Anawangin to Capones Island
0900H – 1000H: Trek to lighthouse (if first timer, you need a guide, may balon sa taas, you can take a shower to freshen up :D)
1000H – 1100H: Photo ops, explore, rest in the light house
1100H – 1145H: Lighthouse to the boat
1145H – 1215H: Capones to San Miguel / Pundaquit
1215H – 1500H: Lunch, Shower / Fix up / Trike to San Antonio
1500H – 2000H: San Antonio to Olongapo / Food trip in Olongapo / Olongapo to Manila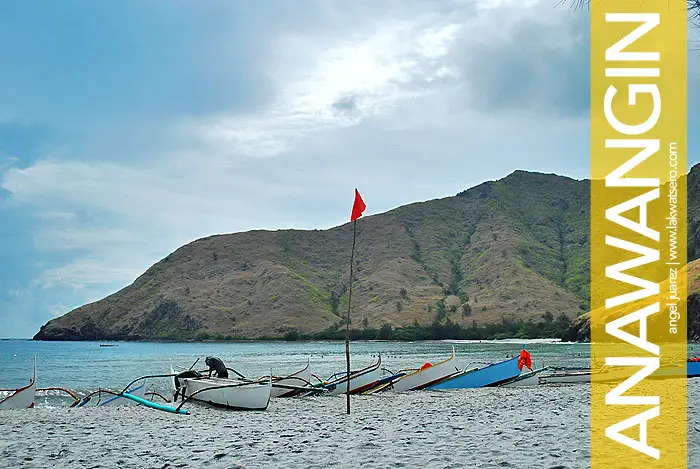 Budget / Expenses
Here's the estimated expenses for a group of four:
Manila to San Antonio Bus – 270
Anawangin Entrance Fee – 100
Food & Miscellaneous – 500
Boat Share – 300
Trike Share – 70
San Antonio to Olongapo Bus –  120
Olongapo to Manila Bus –  215
————————————–
Approximately P1,575 / person
Tips
Since this area is facing the open waters of the South China Sea, the water is generally rough any time of the year specially during afternoon.
Camping fee in Anawangin is at P100 per person.
There are small stores in Anawangin that sells water, chips, candles, canned goods and other basic goods.
No mobile signal and electricity in the area
*First published: 23-Aug-2009 | Updates: 12-Apr-2012; 27-Jan-2018; 20-Aug-2019; 06-Mar-2020