Britain's The Sunday Times named Apulit Island Resort as among the best in Asia in their articled entitled "Asia's Greatest Island Getaways", written by Susan d'Arcy. The article featured the best new destinations in Asia including those in Bali, Indonesia and Phuket, Thailand, and other resorts in Cambodia, Taiwan, Vietnam and Singapore.
Palawan's Apulit Island Resort is the only Philippine spot that made it to the list.
Located in Taytay Bay, Apulit Island Resort sits in a quiet cove surrounded by limestone cliffs. It offers a lot of eco-friendly land and water activities and provides a relaxing atmosphere with its beautiful setting. The waters surrounding the island is a marine sanctuary that guarantees great activities include diving, snorkeling, island hopping, beach bumming, mangrove tours, among others.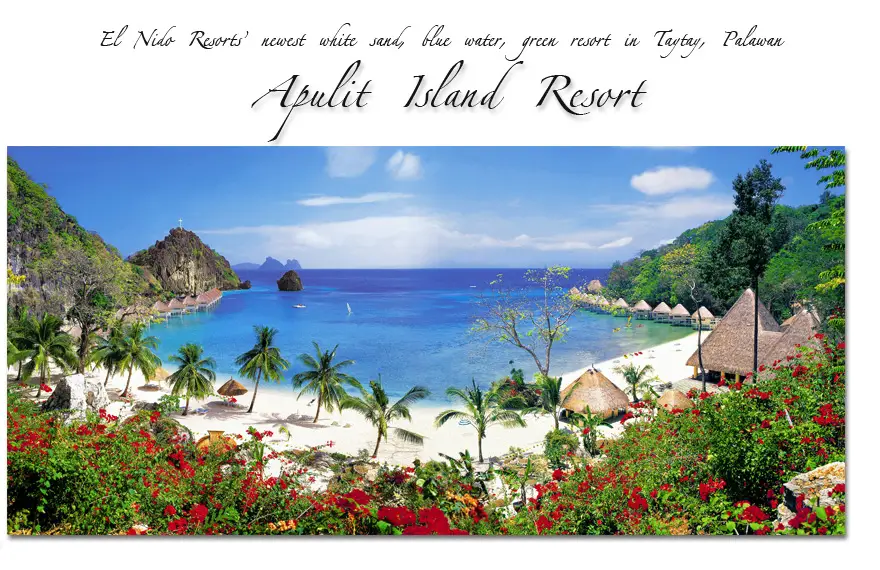 Formerly Club Noah Isabelle, the resort was relaunched in December 2010 by El Nido Resorts Group. It is in the town of Taytay, around 220 kilometers north of Palawan capital, Puerto Princesa.