Craving for an adventure but on a limited budget? Here's Hulugan Falls Travel Guide to help you experience a fun adventure under P1,000. Included in this guide are information on getting there, itinerary, budget and other relevant tips to make you trip hassle-free and memorable.
Hail to Hulugan Falls
The Province of Laguna is home to numerous waterfalls that compete in majesty. Pagsanjan Falls (otherwise known as Magdapio Falls and Cavinti Falls) is first to come to mind being the most popular. But then there's Buntot Palos Falls, Buruwisan Falls, Majayjay Falls and other lesser known yet equally enchanting cascades scattered over the province.
One that has gained instant fame recently is Hulugan Falls, one of the numerous waterfalls in the highland town of Luisiana.
Hulugan Falls is a towering 80 meters drop along Dapi River and one of the three waterfalls in the Village of San Salvador, others being Talay Falls and Hidden Falls. It is a tall and wide curtain waterfalls with a shallow natural pool on its base. Its spacious base is decorated with boulders and small cave on one side.
The waters of Hulugan Falls emanate from the springs atop the southern part of Sierra Madre Mountains flowing along Dapi River, the same river where Aliw Falls is located upstream. Dapi River flows to the bigger Balanacan River before emptying to Laguna Lake.
The trek to Hulugan Falls is quite an adventure but its imposing beauty is a sight to behold making it a worthy adventure.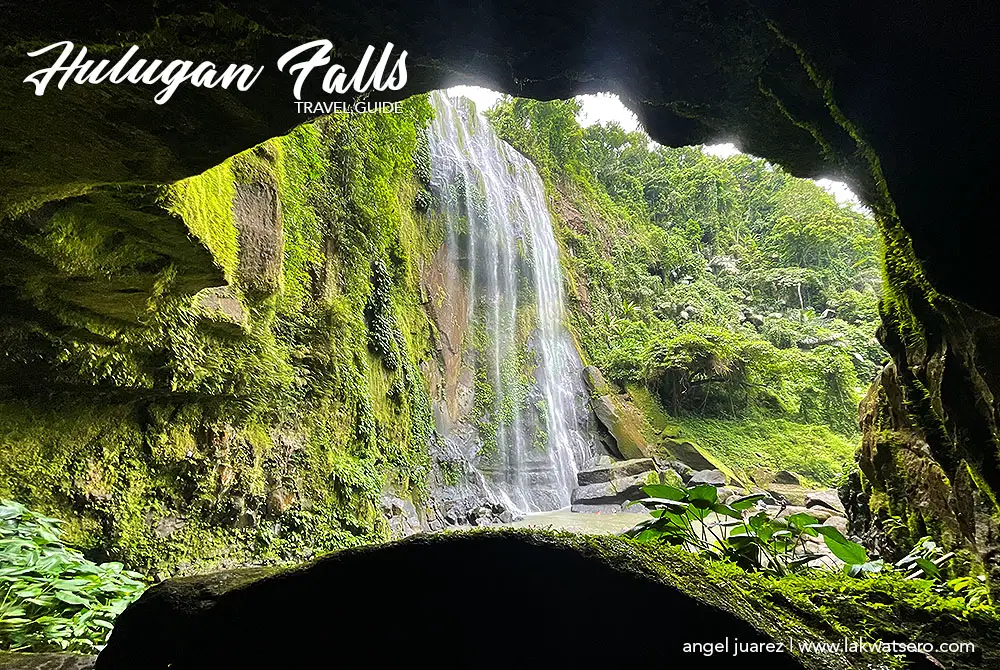 How to Get There
By Private Car to Hulugan Falls
From Manila, take the South Luzon Expressway to Calamba and traverse the National Highway all the way to Pagsanjan Junction (Calamba – Sta. Cruz – Lumban Junction). Turn right at the junction where Pagsanjan Church is located and follow the road to Lucban. The jumpoff to Hulugan Falls is around 13 kilometers from the junction on the right side of the road.
By Public Transport
Take a bus to Santa Cruz, Laguna from Cubao, Buendia LRT, PITX or Alabang. DLTB, LLI and HM Bus have daily departures from 3AM to 7PM.
Get off at Pagsawitan Junction which is around three (3) hours from Buendia. From there, take a jeep to Lucban and alight at the jumpoff to Hulugan Falls.
Hulugan Falls Itinerary
Here is a do-it-yourself itinerary for a day trip to Hulugan Falls including Talay Falls and Hidden Falls via public transportation.
3:30 AM – Meetup in Buendia
4:00 AM – Depart for Sta. Cruz, Laguna
7:00 AM – Arrival in Pagsawitan Junction, Sta. Cruz / Breakfast
8:00 AM – Jeep to Lucban
8:30 AM – Arrival in Hulugan Falls jump off, San Salvador / Registration
8:45 AM – Tricycle to trailhead
9:00 AM – Start of trekking
9:30 AM – Talay Falls
10:00 AM – Hidden Falls
10:30 PM – Hulugan Falls
12:00 PM – Trek back
12:30 PM – Wash Up / Fix up / Lunch
1:30 PM – Jeep to Sta. Cruz
2:00 PM – Food Trip at Le Maison in Sta. Cruz
3:30 PM – Proceed to Bus Station
4:00 PM – Depart for Manila
7:00 PM – Arrival in Manila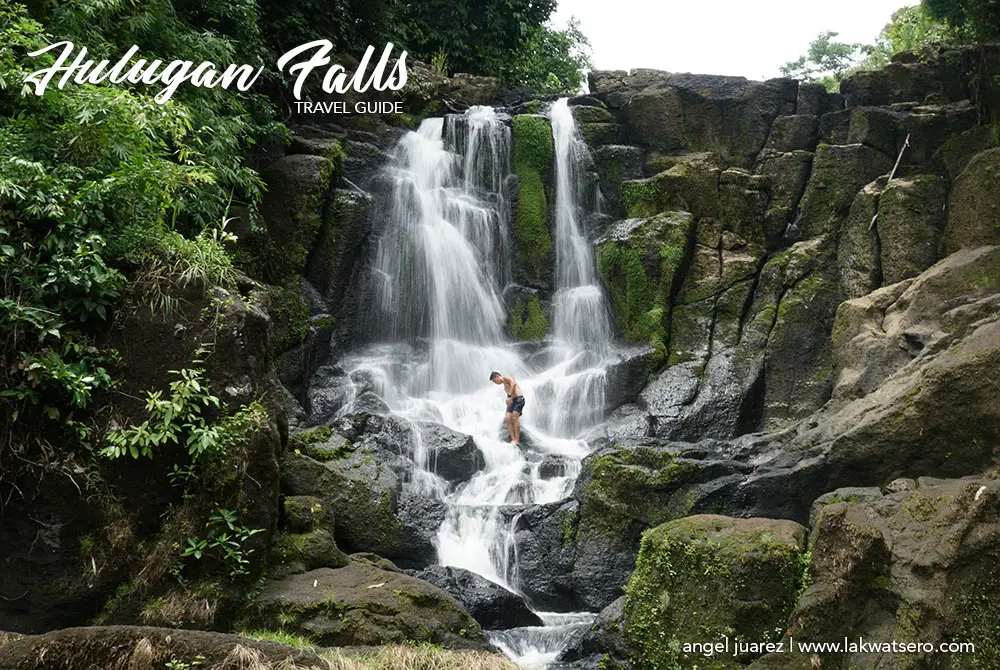 Budget & Logistics
P320 – Bus: Buendia to Sta. Cruz and back
P60 – Jeep: Sta. Cruz to San Salvador and back
P40 – Environmental Fee
P20 – Trike to trailhead and back
P500 – Guide Fee (For sharing of group of 1 to 5 persons)
P500 – Miscellaneous, food, etc.
Package Tours
For a hassle free trip to Hulugan Falls, there are numerous travel groups offering package joining tours for as low as P800 to around P1,200. You can find them in various Facebook Groups and Pages.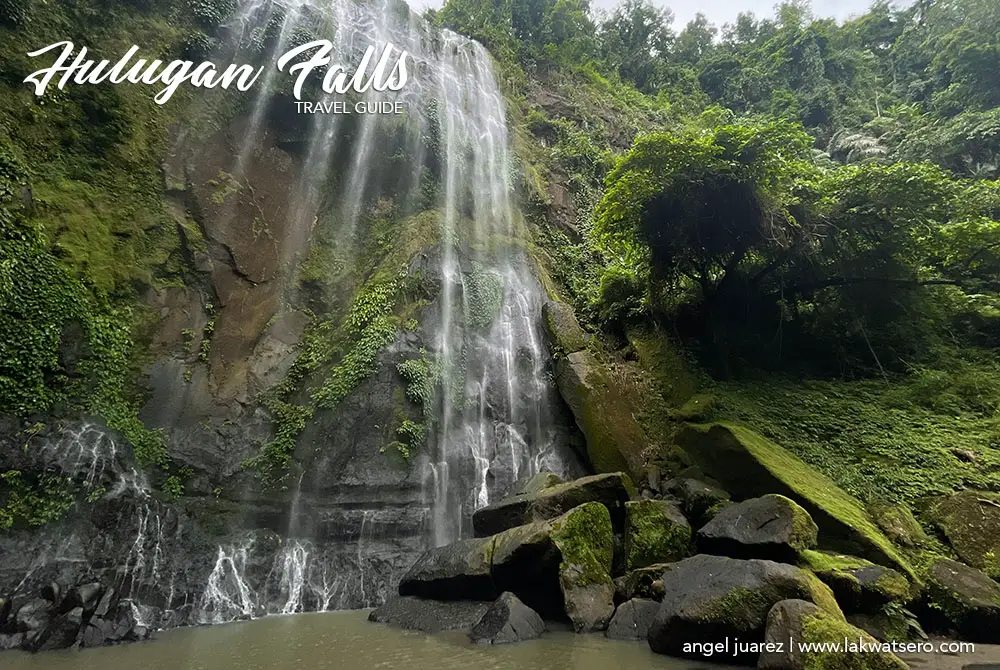 Tips
There are other waterfalls in Luisiana and nearby areas which you can visit if you have more time and energy including Aliw Falls, Malaog Falls, Cavinti or Magdapio Falls, Majayjay Falls, etc.
Tour guide is required and readily available in the registration area
Life vest can be rented at P70 per person which you can use when swimming in Hulugan Falls
There are parking areas in Barangay San Salvador at P50
There is camping ground near Hulugan Falls if you wish to spend the night in the area
Try the bibingka that are being sold along the main highway
Best months to go: November to June
Avoid going there during heavy rains or when there is a typhoon as the trail can get very slippery and continuous rains might trigger flash floods
Check out Luisiana Tourism Office for recent updates