About Carbin Reef
One of the fast rising attractions of Negros Occidental is Carbin Reef, a 200-hectare marine sanctuary located inside the 32,000 hectares Sagay's Marine Reserve which is dubbed as one of the most successful marine conservation programs in the Philippines. Its visibly iconic feature is the cream-colored sandbar surrounded with turquoise water that resembles the naked Guyam Island of Siargao and White Island of Camiguin.
Situated in Sagay City, Carbin Reef is bare and uninhabited, and the only concrete structure is the watch-house at the western tip of the sandbar that serves as post for coast guard and local government. There are also makeshift cottages made of bamboo and light materials for guests. Camping is not allowed, and there is no water source and any kind of plant in the sandbar.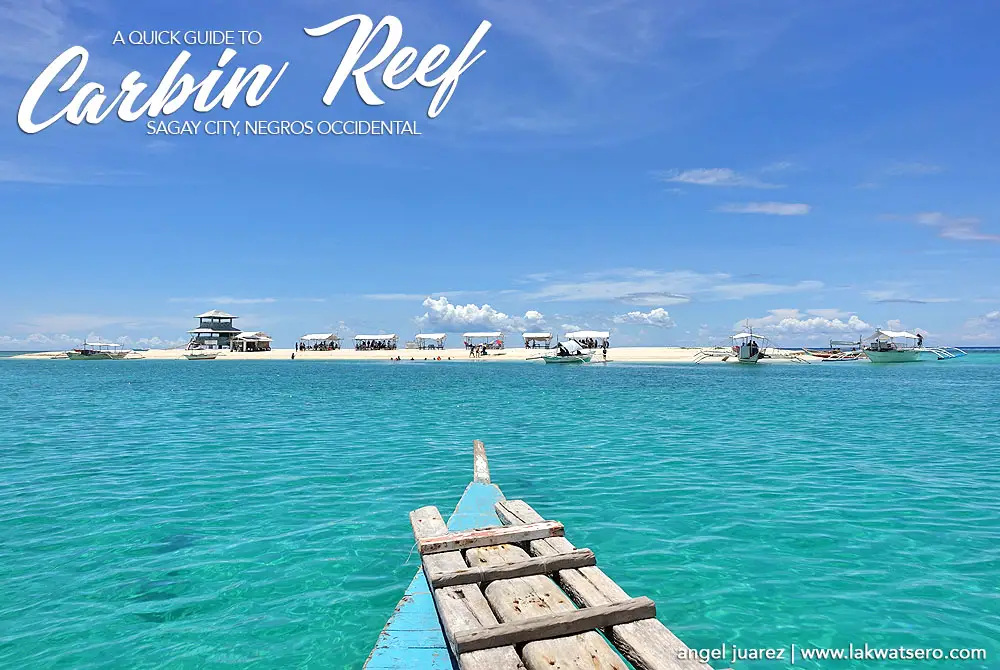 The sandbar of Carbin Reef shifts and changes shape depending on season and current. Located nearby are other reefs, sandbars and islands that comprise Sagay's Marine Reserve including Panal Reef, Maca Reef, Suyac Reef and Molocaboc Islands. The waters around this area are potential dive and snorkeling sites although still unexplored. To visit the place, advance reservation is advised due to 100 guests per day limit imposed by the local government. Call (034)488-0649 or (034) 488-0101 local 117, or email [email protected].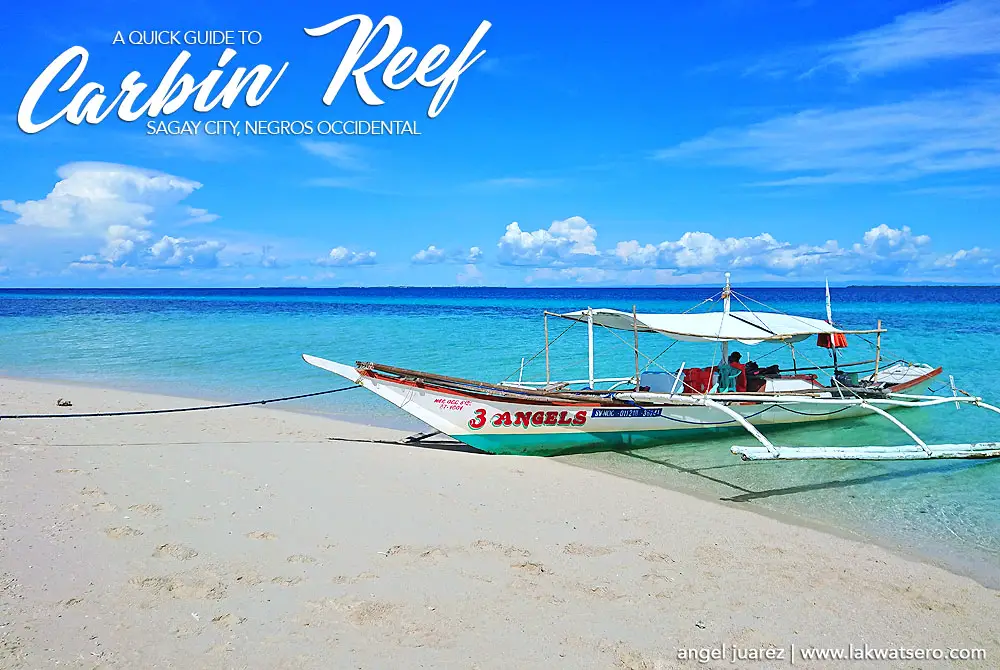 How to Get to Carbin Reef
Bacolod City to Carbin Reef
To get to Carbin Reef from from Bacolod City:
✅ Catch a bus or van to Sagay at Bacolod North Bus Terminal – P150/person (2.5 hours)
✅ Transfer to a tricycle to Tourism Office in Old Sagay – P70/trike good for 5 pax (15 minutes)
✅ Pay Registration Fee: P100/person
✅ Ride the Boat to Carbin Reef – P1,200/boat good for 10 px (20 minutes)
Cebu City to Carbin Reef
From Cebu City, the fastest way to reach Carbin Reef is by taking a three-hour bus to the town of Tabuelan where you can catch a ferry to Escalante City for a two-hour voyage. From Escalante City, Sagay City is just next town or less than one hour away by public transportation.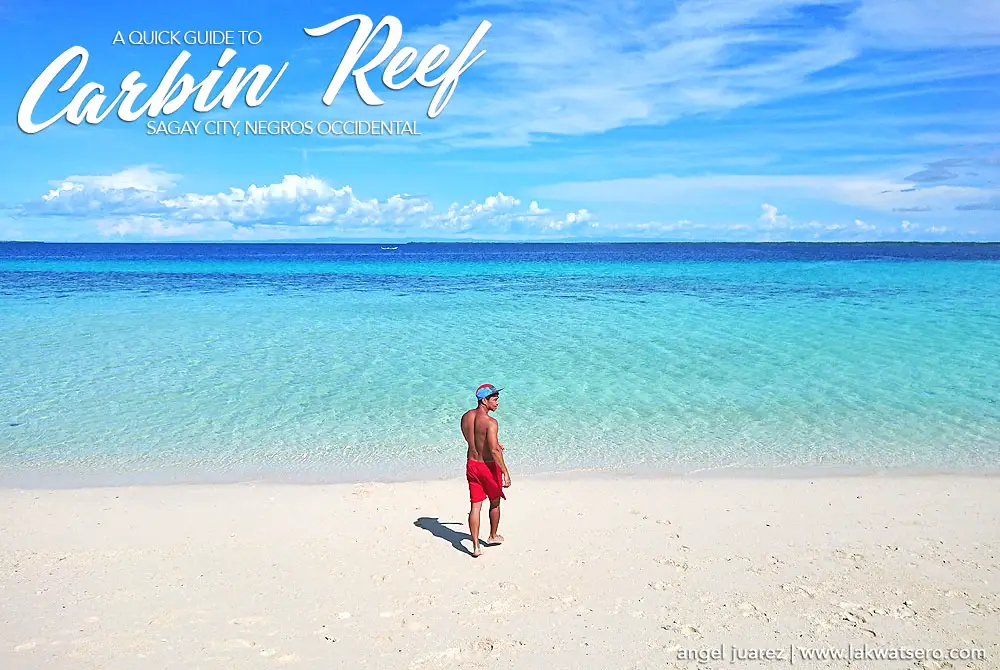 What to Do in Carbin Reef and Nearby
Go Island Hopping in Sagay Reef Marine Reserve: Carbin Reef, Panal Reef, Maca Reef, Suyac Island and Molocaboc Island
Pay a visit to Museo sang Bata sa Negros
Explore Suyac Island mangrove and Eco Park
Dine in Kape Albarako and see Syano Artlink which features the artworks of Nunelucio Alvarado
See the Legendary Syete, an old steam locomotive displayed in the city plaza
Check out Vito Church, Sagay Ladies CIrcle Garden and Living Tree Museum, and Iida Farm
Experience Sinigayan Festival, Marang Festival and Adlaw sa Suba
Scuba Diving / Free Diving / Snorkeling (bring your own gear and equipment)
Spend a day in Lakawon Island
See the attractions of Bacolod City, Escalante City and nearby places of interests
Where to Stay in Sagay and Bacolod
Accommodations in Sagay City
Balay Kausawagan or "House of Progress", which is managed by the local government of Sagay City, offers accommodation as well function rooms and halls for exhibit, trade fairs and other social gatherings. To inquire and reserve, call (034)488-0649 or (034) 488-0101 local 117, or email [email protected].
Bacolod City
Carbin Reef can be visited as a day trip from Bacolod City. Here are some of the highly recommended places to stay there.
Top-Rated / Highly Recommended Accommodations in Bacolod
L'Fisher Hotel
Bacolod Downtown
Starts at 2,600 PHP

 Seda Capitol Central
Bacolod Downtown
Starts at 2,200 PHP
Top-Rated Budget Accommodations in Bacolod
Saltimboca Tourist Inn
Bacolod Downtown
Starts at 600 PHP

Royal Am Rei Hotel
Bacolod Downtown
Starts at 600 PHP
Sample Carbin Reef Day Itinerary from Bacolod
0600H: Call time / breakfast
0700H: Proceed to North Bound Bus Terminal
0800H: Bacolod to Sagay
1030H: Arrive in Sagay, Trike to Tourism Office
1100H: Sagay to Carbin Reef
1130H: Carbin Reef: Swim, snorkel, etc. (option to visit Panal Reef, Maca Reef, Suyac Island)
1500H: Depart Carbin Reef
1530H: Arrive in Port / Trike to Sagay
1600H: Arrive in Sagay / Van to Bacolod
1800H: Arrive in Bacolod City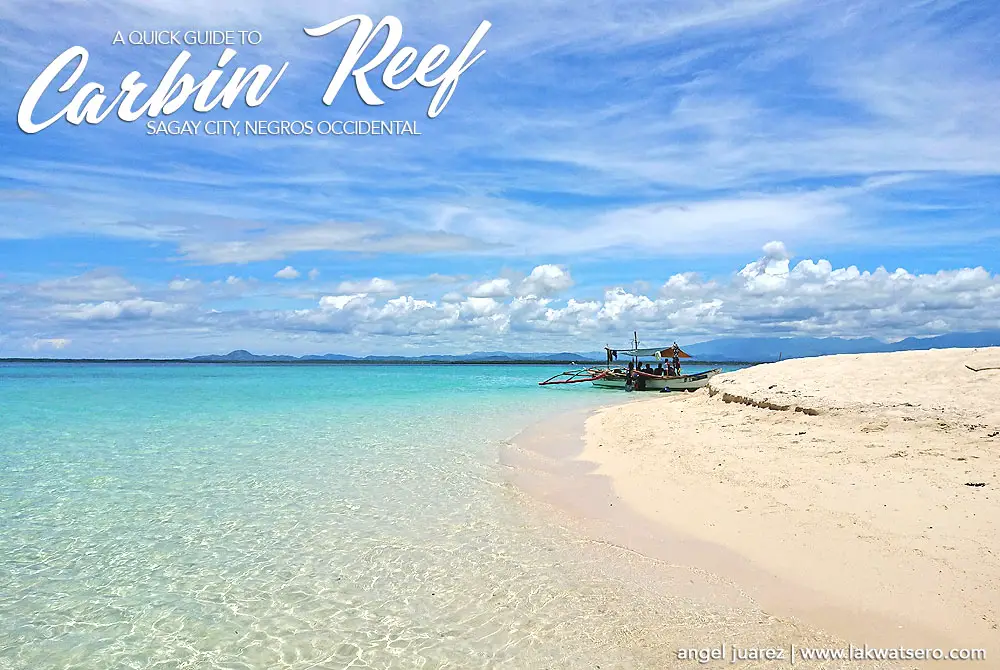 Expenses
Particulars
Cost
Bus: Bacolod to Sagay
P150/person
Tricycle from Sagay to Old Sagay Port
P70/trike (5-person sharing)
Admission Fee
P100/person for non-resident
Boat: Old Sagay – Carbin Reef – Old Sagay
P1,200/boat (maximum 10 person)
P1,500/boat (11 to 15 person)
+P300 (to include Suyac Island)
+P500 (to include Panal Reef)
+P500 (to include Maca Reef)
Carbin Reef Cottage Fee
P300 (small) & P500 (big)
Suyac Island Paddle Tour
P300/person
Suyac Island Cottage
P500/cottage
Suyac Island Snorkeling Tour (Includes guide, snorkeling fee, snorkeling gear and life vest)
P600/two-person sharing
P400/one person
Snorkeling Gear Reantal
P250/set
Entrance to Suyac Island
P10/person
Terminal Fee in Suyac Island
P10/person
Tips
Best months: March to June
Mobile signal is available but weak
Only 100 guests per is allowed in Carbin Reef (70 for those with advanced reservation and 30 for walk-ins)
Call (034)488-0649 or (034) 488-0101 local 117, or email [email protected] for reservation and inquiry
Tourism office only accepts cash
Emergency Numbers: +63-999-3182837 (Sagay Coast Guard) / +63-919-259-3489 (Rescue)