Five key local professional basketball personalities recently forged an agreement with DTC Mobile to be the first brand ambassadors of the country's market-leading economy mobile device innovator.
Rain or Shine shooting guard Ryan Araña, Air 21 point guard Simon Atkins, Talk 'N Text power forward Rommel Niño "KG" Canaleta, 3-time PBA All-Star Meralco Bolts shooting guard Gary David, and 11-time PBA All-Star Redbull point guard Willie Miller are the faces of DTC Mobile! All renowned icons of their own league, DTC Mobile chose the quintet for their dedication, revolutionary style and powerful performance – similar traits shared by DTC Mobile.
These personalities symbolize active but practical living, which DTC consumers also exemplify. Their selection as ambassadors of DTC Mobile is expected to bring the brand closer to its consumers.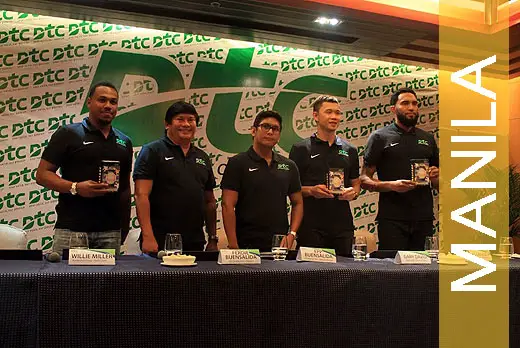 Established in 2011, DTC Mobile is a top-selling manufacturer of high-quality and low-cost mobile devices including classic bar phones, TV phones and Android-based smartphones and phablets. With its dedication to innovative technology and ever-evolving customer needs, DTC became an honoree of the Best Innovative Brand of Mobile Phones National Awards in 2011 and the National Product Quality Excellence Awards in 2013. Today, it continues to be the leading mobile device provider of choice for discerning users across the Philippines.
"DTC is a brand that capitalizes on a strong commitment to customer satisfaction through the power of innovative technology and human ingenuity. We consider our people as one of our best assets," says Ferdinand Buensalida Jr., General Manager for DTC. Accoding to him, the selection of their pioneer ambassadors is a no-brainer for they are all the crème de la crème of their field, an epitome of what DTC is all about.
DTC anticipates a more power-packed year as its celebrates its third year in the industry with the introduction of their first brand ambassadors and the new smart gadgets in the pipeline which are expected for release on the third quarter of 2014.
To learn more about DTC, visit their official website at www.dtcmobile.com.ph.