Travel Guide: Camiguin Island
Nested in the northern Mindanao, Philippines, is a pear-shaped volcanic island of Camiguin, aptly called as the "Island Born of Fire". It is roughly 100 kilometers north of Cagayan de Oro City in Misamis Oriental.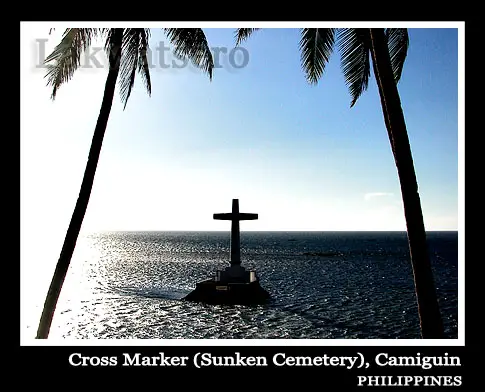 It can be considered as the Hawaii of the South East Asia as this island was created by volcanic eruptions and land movements. It has a total of seven volcanoes, one of which is the active Mount Hibok-Hibok that last erupted in 1953. Having been blessed by natural wonders and historical treasures, the island is truly a paradise.
Among the most famous landmarks of Camiguin is an uninhabited white island that is around two kilometers off the shore of Agoho. It is actually a sandbar that offers a picturesque view of Mt. Hibok-Hibok. This sandbarsubmerges substantially during high tides.
How to Get There:
By Air
Although Camiguin has its own airport in Mambajao, commercial airlines ceased operating  directly to the province. So the nearest commercial airports would be Cagayan de Oro City and Butuan.
via Cagayan de Oro
Philippine Airlines, Cebu Pacific, Airphil Express and Zest Air have regular flights daily to Cagayan de Oro from Manila. Meanwhile, Cebu Pacific also flies from Cebu, Iloilo and Davao to Cagayan  de Oro on scheduled trips.
From Lumbia Airport of Cagayan de Oro, ride a van (~P200.00) or a cab  (~P200.00) to Agora Market where you can catch a bus (~P140.00) or a van (~P200.00) to Balingoan for a two hour ride. Get off in Balingoan Terminal and walk to the port. From there, ride a ferry (~P150.00) to Benoni Port, Camiguin. Ferries from Balingoan Port to Benoni, Camiguin leave almost every hour from 5Am to 5PM, travel time is two hours.
Alternatively, you can ride a fast craft from Cagayan de Oro's Macabalan Port straight to Camiguin. Paras Sea Cat departs Cagayan de Oro everyday (except Thursday) to Camiguin at 0830H. Regular fare is at P550 for View Deck  (non-aircon) and Main Deck (aircon); P750 for Business Class.
via Butuan
Philippine Airlines has regular flights to Butuan daily from Manila. Meanwhile, Cebu Pacific flies from Manila and Cebu to Butuan daily.
From Butuan airport, catch a motorella or taxi to take you to the bus terminal and hop to any Cagayan bound bus. The bus will make a stop at Balingoan Terminal. From the bus terminal, walk to the port and ride a ferry to Camiguin.
By Land and Water
(Though Lakwatsero haven't try these means of transportation yet, one can possibly reach Camiguin by bus and/or ferry rides to Cagayan de Oro or Butuan from Manila. These alternatives may be cheaper than air travel though quite strenous.)
Philtranco buses offers Manila(Pasay) to Cagayan de Oro for an approximately 42 hours travel time
SuperFerry/Negros Navigation have ferries bound to Cagayan de Oro City and Nasipit for around 30 hours travel time
Cagayan de Oro City serves as gateway to Camiguin. From there follow the Agora market-Balingoan Port-Camiguin Route. There are also ferries to Cagayan de Oro from Cebu. While several bus companies ply their routes to Cagayan de Oro from all points in Mindanao these are: Rural Transit of Mindanao, Bachelor Express, Super 5, LCI, and Bagong Lipunan.
from Bohol and Cebu
Super Shuttle Ferry serves Cebu – Camiguin and Jagna, Bohol – Camiguin. Visit their website for schedule.
Where to Stay:
There are quite numerous hotels/lodges in this island to choose from for budget or high-end tourists. Most are located in Mambajao. There are also homestays, cottages and rooms-for-rent which are decent enough for a stay for as low as P500.00 per room. But during Lakwatsero's visit to Camiguin, we stayed at Paguia's Cottages located at Rocky Village Subd., Yumbing, Mambajao, right in front of Paras. It is owned by Ma'am Hospecia Paguia, contact no: (088)387-9018. A nice room for up to 6 people for only P1400/night. For the Lakwatsero's compilation of accomodations in Camiguin click here.
Activities:
Camiguin is best experienced than described, they say. Rent a multicab for a tour of the island (~P2500.00 for a big multicab that can fit 12 persons, including port tranfers). With its natural wonders and historic landmarks, tourists will definitely enjoy these sites:
Old Catarman (Gui-ob) Church Ruins: In Barangay Bonbon, 16 kilometers from the center of Catarman. What remains are ruins of adobe walls, belfry and convent that are testimonials to the devastating 1871 earthquake which wiped out the illustrious town of Catarman established earlier as a Spanish settlement in 1967.
Cross Marker and Sunken Cemetery: Sixteen kilometers from Catarman proper; a huge cross was installed in 1982 to mark the community cemetery which sunk during the 1871 volcanic holocaust. A fluvial procession usually organized by the townsfolk of Barangay Bonbon is held to honor the sunken graves of their forefather.
Stations of the Cross(Via Cruzes) / Walkway (Old Vulcan): A walkway complete with 14 Stations of The Cross leads to the peak of Mt Vulcan Daan. Thirteen kilometers west of Mambajao, it has 70 to 80 meters drop and is a landmark of the PANAAD Pilgrimage.
Katibawasan Falls: Five kilometers southeast of Mambajao center is a waterfalls which measures 250 feet high cascades to a rock pool surrounded by ground orchids, wild ferns, trees and boulders. Its cold water provides an ideal summer splash to bathers and picnickers.
Tuasan Falls: Six kilometers northwest of Catarman, the trek to this 25 meter high rapid waterfalls entails a very scenic hike passing thru the quaint Barrio Mainit. The falls can be tapped as a mini hydro source of power.
Binangawan Falls: Where several miniature and gigantic waterfalls gushing through majestic granite stones that converge in one main pool, covered with luscious unspoiled vegetation, and a mystical rainbow is arched by the fall's mist as the sunlight penetrates through it.
White Island: An uninhabited white sandbar with Mt. Hibok-Hibok and Old Volcan in the backdraft that reflects the grandeur the Province of Camiguin has ever achieved. It is reached within 10 minutes through a banca from anywhere in Yumbing, Mambajao area.
Ardent Hot Spring: Six kilometers west of Mambajao is a mineral pool with water around 40 degree centigrade. Vapor rises from the heated waters that run down the vents of the dormant Hibok-Hibok volcano. The springs are ideal to bathe in at night surrounded by cool mountain air. It has therapeutic effects. Picnic huts and tables are available in the beautifully landscaped gardens with a restaurant on site.
Sto. Niño Cold Spring: Located 4 kilometers north of Catarman is a huge pool of cold spring water with a sandy bottom. The area has native stores, picnic huts and toilets for visitors and guests.
Others: Taste the Pastel de Camiguin, a very yummy yema filled bun, visit Macao Cold Spring, Tangub Hot Spring, Mantigue Island, Taguines Lagoon, dive spots of Jicdup and Burias shoals, Ancestral Houses, Old Churches and Centennial Tree. Dine in Luna Ristorante. Diving in the diverse and unspoiled waters around the province. Tour nearby Cagayan de Oro City and try White Water Rafting in the river.
Sample Itinerary (Camiguin-CDO-Bukidnon)
Day 1: Camiguin En Route and White Sand Bar Sunset
0600H – 0825H: Assembly in NAIA 3 / Check-in
0825H – 0950H: Manila to Cagayan de Oro Flight
0950H – 1030H: Assembly / Baggage Check-in
1030H – 1100H: Cagayan de Oro Airport to Agora Terminal
1100H – 1300H: Agora Terminal to Balingoan Port
1300H – 1400H: Lunch
1400H – 1530H: Balingoan to Benoni Port, Camiguin
1530H – 1600H: Benoni to Paguia's Cottages
1600H – 1630H: Check-in/Fix-up
1630H – 1830H: Camiguin to White Sandbar (by boat) / Sunset at White Sand Bar / Back to Mainland Camiguin
1830H – 1930H: Wash-up Fix-up
1930H – onwards: Dinner / Socials / Lights off
Day 2: Camiguin on a Day
0600H – 0800H: Call Time / Breakfast
0800H – 1300H: Multicab Tour: Ol Vocano Station of the Cross / Sunken Cemetery / Gui-ob Church Ruins/ Sto. Niño Cold Springs
1300H – 1400H: Lunch
1400H – 1800H: Katibawasan Falls / Ardent Hot Springs
1800H – 1900H: Wash-up / Fix-up
1900H – onwards: Dinner / Socials / Lights off
Day 3: Wild Water Ride
0345H – 0430H: Call Time / Paguia's to Benoni Port
0430H – 0600H: Benoni Port to Balingoan
0600H – 0800H: Balingoan to Cagayan de Oro
0800H – 0900H: Check-in New Dawn Pensionne / Heavy Breakfast
0900H – 1800H: White Water Rafting!!!! (Buffet Lunch included)
1800H – 1900H: Wash-up / Fix-up
1900H – onwards: Dinner / Socials
Day 4: Zip High in Bukidnon
0500H – 0600H: Call Time / Breakfast
0600H – 0800H: Travel CDO to Bukidnon
0800H – 1100H: Zip, Zorb and more in Dahilayan (Lunch and Snacks Included)
1100H – 1300H: Travel Bukidnon to CDO
1300H – 1400H: Hotel Check-out / Travel to Airport
1400H – 1555H: Assembly / Airport Check-in
1555H – 1720H: Travel CDO to Manila
Budget for Camiguin-CDO-Bukidnon (Approximately P5,000 – P5,500 each for a group of 6)

Taxi (Airport to Agora Terminal): P50.00
Bus (Agora To Balingoan): P143.00
Ferry to Camiguin: P150.00
Multicab (Tour/Transfer): P250
2 Nights Camiguin Accomodation: P600
Boat to White Island: P150
Ferry Camiguin to Balingoan: P150.00
Bus (Balingoan to Agora): P143.00
Taxi to New Dawn Pension: P30.00
1 Night CDO Accomodation: P350
White Water Rafting + Zipzone: P1999
Terminal Fee CDO: P30
Miscellaneous/Foods/Entrance Fees/Etc: P1000
———————————————————————-
Approximate Budget: P5100
*First published: 29-March-2008. Last updated: 03-August-2011.